The big red power button is a new addition to Gigabyte's high end motherboards and something we'd like to see all mobo makers adopt. The button is illuminated orange when the PC is plugged in and glows blue when the board is running. Located in the top right corner of the board it's a bit out of the way for overclockers who tend to tweak outside the box; generally the front-panel IO headers are closer to us when we test a system.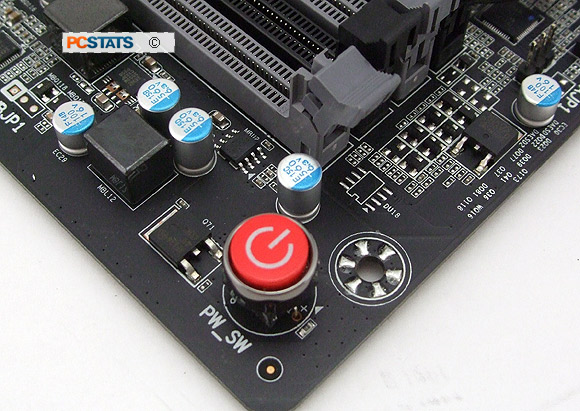 Motherboard physical power switch - big and red and easy to find in the dark!
The Reset button is in the opposite corner of the GA-X79-UD5 motherboard and hard to find if you're accustomed to the Power and Reset buttons being located near one another. A clear CMOS button is tucked away at the rear I/O panel, while another clear CMOS jumper is situated by the front panel I/O headers. During PCSTATS overclocking tests we never had to tap the clear CMOS button.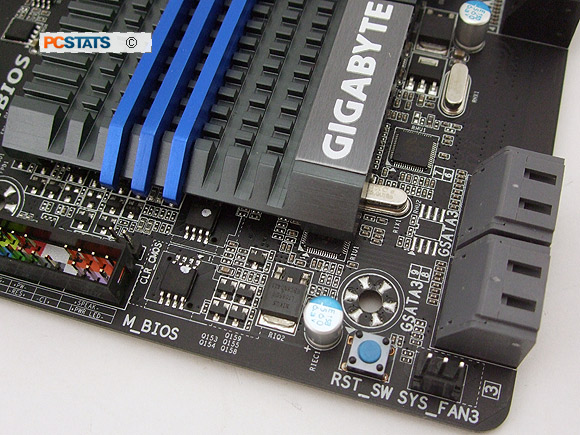 CMOS jumper, dual BIOS chips, physical reset switch.
For example, while overclocking if the Gigabyte GA-X79-UD5 motherboard failed to POST due to a bad overclock setting, it will automatically recover to a failsafe mode and give you three options: continue with the failed overclocking setting, restart with default BIOS options or go directly into the BIOS with existing (non-workable) BIOS settings.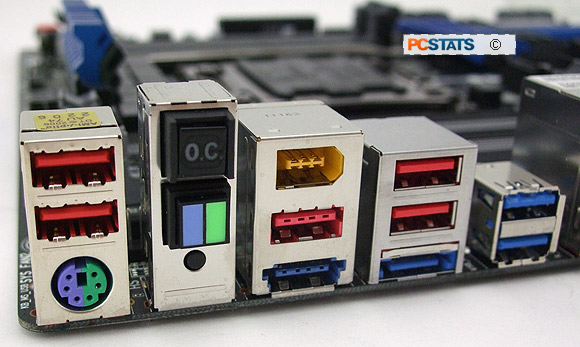 Clear CMOS jumper (small black dot), BIOS switch button (blue/green), CPU overclocking button (OC)
Since the board conveniently recovers from bad overclocks, there's little practical need to reset the CMOS.
And finally, a minor thing, the typically razor sharp metal edges of the metal I/O shield have been replaced with a nice flat, soft EMI gasket.