Intel X79 motherboards accommodate 32nm Intel socket LGA2011 'Sandy Bridge-E' Core i7 3xxx-series processors which currently come in 4-core and 6-core variants. Now, while the heatsink mounting standard for LGA2011 'Sandy Bridge-E' processors is dimensionally identical to previous LGA1366 'Nehalem' processors, the through-PCB method of mounting a CPU heatsink used in the past has been retired for a sturdier means; four M4x0.7 threaded metal studs.
In other words, a LGA1366 heatsink won't install onto a LGA2011 motherboard.

LGA2011 CPU socket for 32nm Sandy Bridge-E Processors.
The Gigabyte GA-X79-UD5 motherboard is outfitted with three 4-pin PWM fan headers by the processor socket and two 3-pin fan headers by the expansion slots.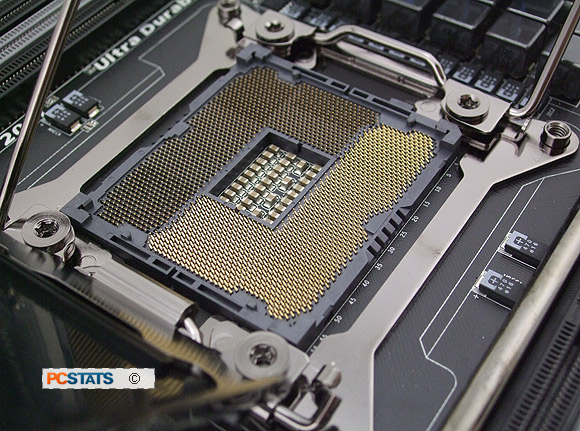 Socket LGA2011 for Intel Sandy Bridge-E processors with the exposed 'golden fingers'.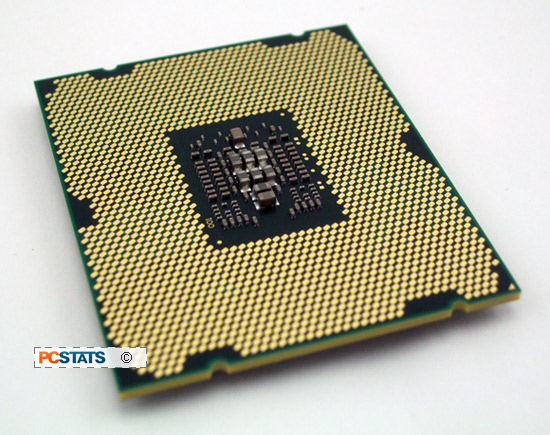 Intel 2nd Generation Sandy Bridge-E Core i7 3820 processor, FPGA package.
Since Intel has rolled out no fewer than five different CPU sockets in recent years - LGA775, 1156, 1155, 1366, 2011 - choosing an aftermarket heatsink for a new computer system has gotten rather confusing. Whichever heatsink you pick, it must be capable of cooling a 130W Thermal Design Power (TDP).
Here's what we're dealing with for Intel LGA2011 motherboards: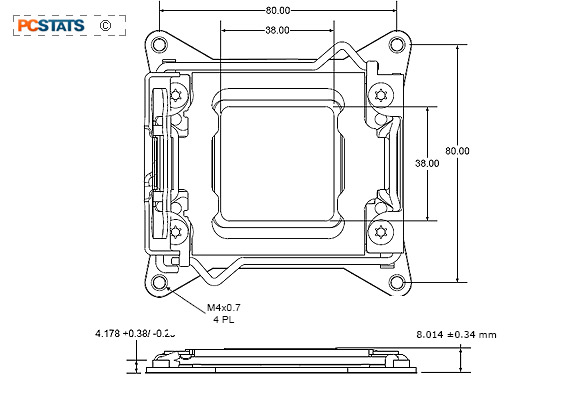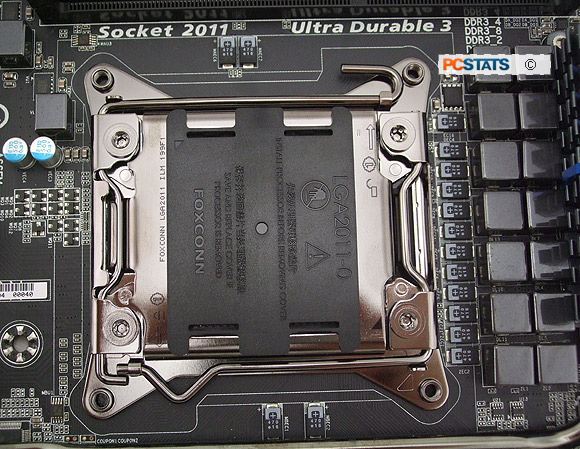 Socket LGA2011.
Socket LGA2011 processors are physically much larger than the previous generation CPUs (the IHS is now 38x38mm), so Intel engineered threaded metal studs into the LGA2011 mechanical CPU socket for the heatsinks to attach to. The idea is that this will reduce stress on the motherboard and ensure sturdier mounting. In place of the four PCB mounting holes (which ironically, still exist) all Intel LGA2011 heatsinks utilize four M4x0.7 threaded studs, spaced 80mm apart.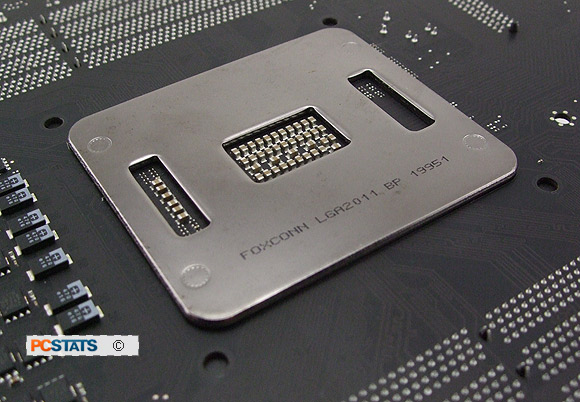 Socket LGA2011 rear support plate.
The components of the new LGA2011 Intel Independent Loading Mechanism (ILM) are pictured below.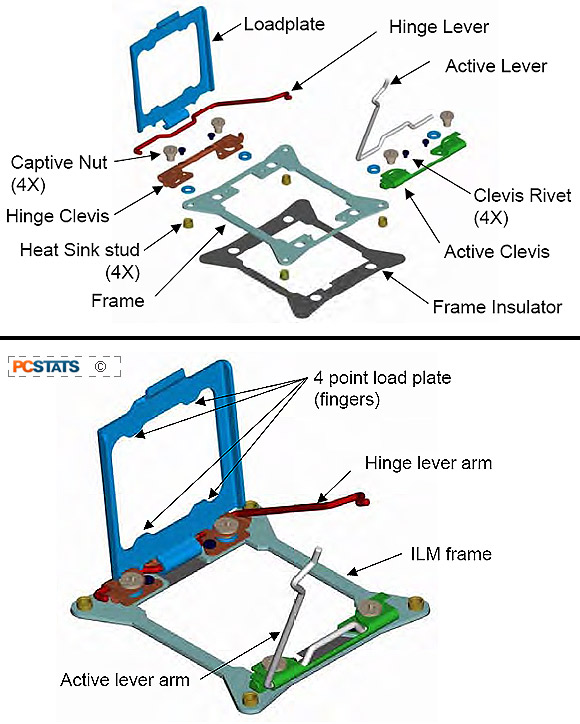 Intel Independent Loading Mechanism (ILM)
According to Intel's detailed Thermal/Mechanical Design Guide, the LGA2011 processor package can take a maximum static compressive load of 160lbf and can be inserted into and removed from the LGA2011 socket up to 15 times. Damage to the gold pads on the bottom of the processor may occur after too many insertions/removals.
Like previous Intel FPGA processor packages, the integrated heatspreader continues to be fabricated from nickel plated copper. Maximum heatsink weight is spec'd at 600 grams.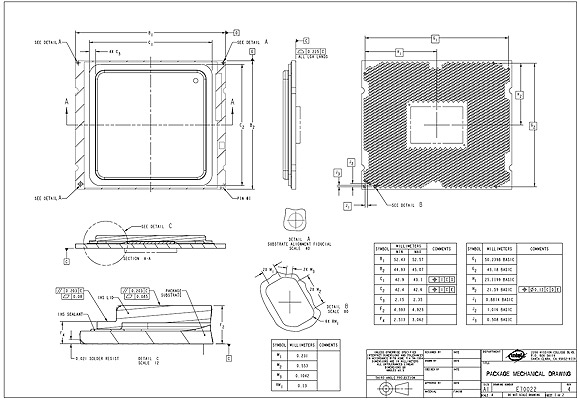 The new heatsink mounting approach puts less flexing stress on the motherboard PCB, standardizes (and I'd say greatly simplifies) how aftermarket heatsinks mount onto LGA2011 processors and creates one new problem. Stripped machine threads.
If the screws from the LGA2011 heatsink mound don't line up correctly with the M4x0.7 threaded studs, it's easy to mash socket's screw threads. Be carefull installing your heatsink onto the Gigabyte GA-X79-UD5 motherboard and if you encounter unexpected resistance, stop and check the heatsink mounting hardware is going in straight!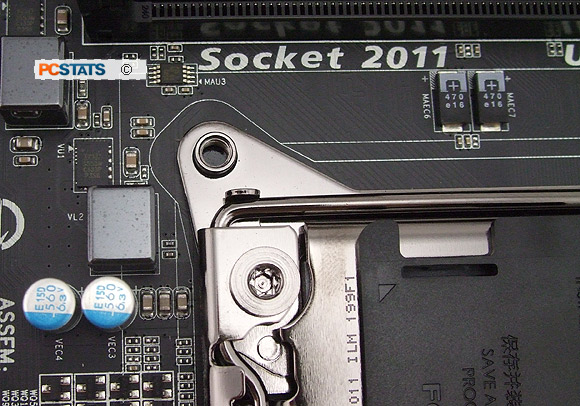 One of the four M4x0.7 threaded metal studs for affixing the processor heatsink.
Overclocking results for the Gigabyte GA-X79-UD5 motherboard and a look around the 3D UEFI BIOS are coming right up...