In order to burn your clip to DVD, you need to separate the audio and video portions into two different files. To do this easily, we will use the TMPGEnc program. This program is a full-featured MPEG encoder, but we're only going to use this one feature for now.
To split your video clip into audio and video streams, open TMPGEnc, close the wizard and go to 'file\MPEG tools.'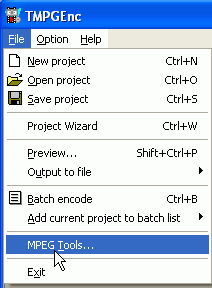 Select the 'simple De-multiplex' tab and use the 'browse' button next to the 'input' box to find your video clip (make sure to select the new MPEG2 file, not the old version. If the files look the same, check the file size. Your newly encoded file will be larger.). As the screen shows, an audio and a video file will be created in the same directory.

Hit 'run' to perform the operation. Once you are finished, it's time to prepare the clips for burning to DVD with the IfoEdit program. Navigate to the drive you keep your video clips on and create a new folder. Call it 'DVD' or something similar. Then, start Ifoedit and go to 'DVD author', then select 'Author new DVD.'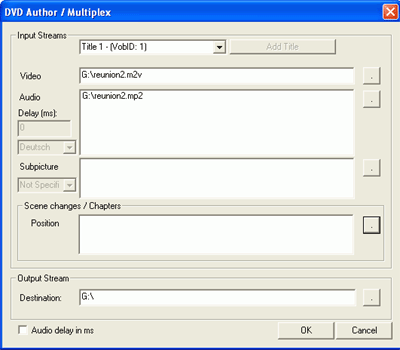 Hit the browse button (represented by a single dot) next to the 'video' and 'audio' boxes. Locate the .m2v (video) file and the .mp2 (audio) file you created in the last step. In the 'destination' box, enter the location of the new directory you just created. Hit 'ok' and Ifoedit will create the necessary DVD-video files in that directory.