AVI2MPEG and IfoEdit
Up until now, all the software we've looked at has been commercial. Unfortunately, DVDs and the methods used to author and burn them are big business right now, so there are precious few freeware alternatives on the market. In fact we had to use a combination of four programs to complete this guide. IfoEdit will create DVDs, but it has none of the video conversion features that the commercial solutions offer.
This means that we need a way to convert our video clips into the correct MPEG-2 format for DVD video. That's where AVI2MPG2 comes in. Its only purpose is to convert other video files to DVD ready MPEG2 video clips, and it does it well. We still need one more program though, as those clips need to be split into separate audio and video segments for IfoEdit to chew on.
TMPGEnc does this easily. After all this is done, we will have a set of files which can be burned to a DVD using Nero, Easy CD/DVD creator or one of many other DVD recording programs. No fancy menus here though.
As you might expect, this section of the guide offers none of the user-friendly, streamlined interfaces of the other products we've looked at. The results are comparable though (you may miss the menus that the commercial products offer), and they're free, so let's take a look at the process:
Download IfoEdit, TMPGEnc and BBMPEG (with AVI2MPG2). Unzip each file to a separate folder. The first step is to convert your movie clips into the MPEG 2 format used for DVD video. Open the bbmpg folder and run 'AVI2MPG2.EXE'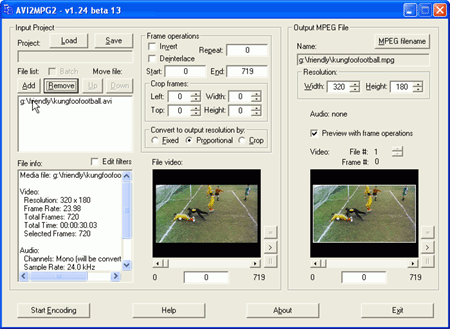 Click 'add' and browse to the clip or clips that you wish to convert to MPEG-2 format.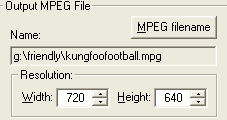 Now we need to change the resolution of the clips to suit DVD playback. If your video equipment uses NTSC (North America), that will be 720x640, if PAL (Asia) then 720x576.