The 'create menu' button affects whether a menu will be created for the DVD. If selected, menu creation is handled on the next page. The 'enhance video' button gives you the ability to add transition effects, sound and animated text to your DVD. Go wild!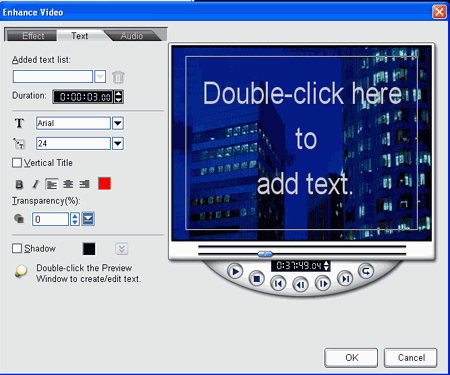 When you are sure you have all the clips, chapters and effects that you need for your DVD, click the 'next' button.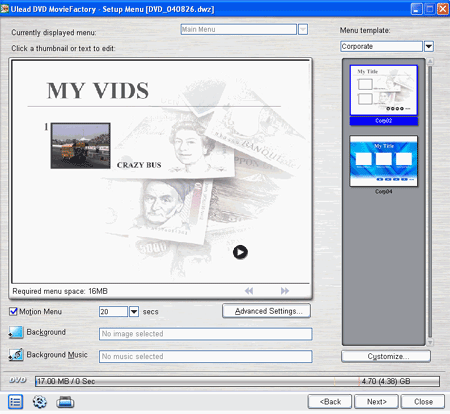 This brings us to the menu setup screen, where you can configure the menu that will appear when you pop the DVD into your player. The drop down box on the top-right allows you to select from a variety of menu styles, and you can add music, background images and customize the menu using the button along the bottom. Click on the text in the preview window to change it, and click the pictures to change which still shot from your clip you wish to use as a preview. The 'motion menu' option will animate these pictures for a brief period.
When you have something you like, hit 'next' to see a preview. From this next screen you can preview how the entire DVD will look and operate using the player controls at the bottom. Use the 'back' button to make changes. When you are satisfied, hit 'next' again. This brings us to the final screen, where you will burn your creation onto DVD. Click the 'output' button to begin the recording process and sit back. It's going to take a while. Once your movie has finished, drop it into your DVD player and enjoy.