To split up your scenes, right click on the small screen image of your first clip on the upper right hand side of the screen and select 'show video scenes...'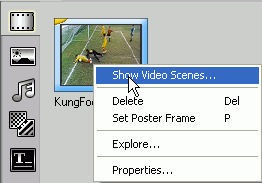 From here, you can use the program's auto detection function to analyze and set appropriate scene changes, create scenes at preset intervals with the 'by time' command or insert chapters manually with the jog bar under the preview window and the 'add scene break...' button. If you use the automatic scene detection, we'd recommend dialing the sensitivity way down (less than 10%) or you'll end up with an unreasonable amount of scenes. There is a handy 'merge' button which you can use to clean up after the auto-detection finishes though.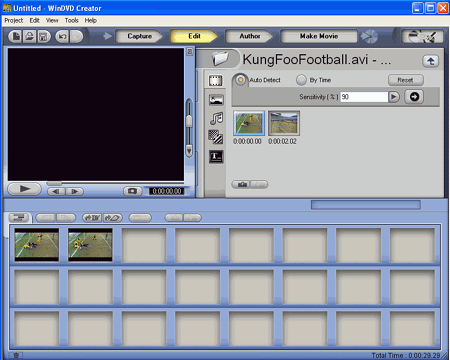 Once you have finished making your scenes, do not exit the interface. You need to drag and drop each scene into the sequence bar at the bottom of the screen in order for them to be saved. You will also need to delete the first item on the bar, which represents the original clip.