The contents of that directory should look similar to this: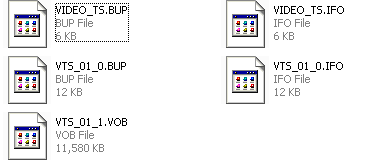 Now we have the necessary files to create a DVD, all that remains is to use a DVD burning program such as Nero or Roxio Easy CD/DVD creator to put it on disk. Whichever program your recorder came with should do fine. Let's take a look at how to do it with the most common CD/DVD creation program, Nero Burning Rom.
Creating your DVD with Nero (versions 5+)
Launch Nero and select 'DVD-video' as your new compilation. If you wish to label the DVD, go to the 'label' tab and add your choice of name. Click 'new.'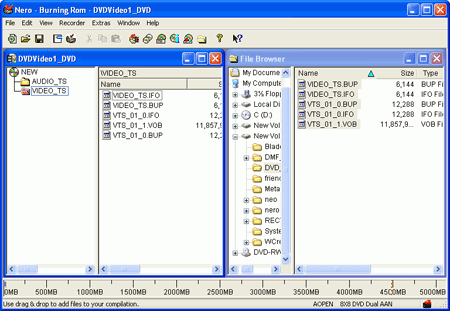 As you can see, the file system for your video DVD is already created in the left-hand pane. On the right hand pane, navigate to the directory you created for the Ifoedit files. Select all files in this directory and drag them into the 'VIDEO_TS' folder on the DVD (left hand side). Make sure that the files go to this folder and not onto the root of the disk. The 'AUDIO_TS' folder should always be empty. Now click the 'burn' icon and create your DVD as you would any other recordable CD or DVD. The finished project should be playable in your DVD player.