The process of converting video footage to a DVD-video disk playable in any standard DVD player involves several steps. The first of these steps, digitizing the video, we covered in a previous article . After converting your footage from analogue to digital, you must convert it again to MPEG-2 format (unless this was done as part of the first step), then separate the video and audio streams into distinct files, then transform these files into the .VOB, .IFO and .BUP files that your DVD player understands, then finally burn the files onto a DVD disk.
Fortunately, many DVD authoring programs are available that can perform every one of these steps within the same interface, making the procedure novice-friendly.
What you will need:
A DVD burner and blank DVD disks (any format except DVD-RAM)
A DVD authoring and editing program such as: Ulead DVD MovieFactory 3, InterVideo WinDVD Creator 2 or IfoEdit (with AVI2MPG2 and TMPGEnc)
A CD/DVD creation program such as Nero 5.5+ or Roxio Easy CD and DVD creator (only needed if you plan to use the free DVD creation method outlined below. All the commercial DVD authoring programs we cover here include DVD burning as part of the package).
The above list of programs are the ones we used for the purposes of this article. There are many other excellent DVD-authoring software packages available, so if you already have a different one included with your DVD recorder, use that instead. Chances are it will work in a similar way.
Note that all of the above packages except for the combination of IfoEdit, AVI2MPEG2 and TMPGEnc are commercial products. They both have a brief trial period in which you can test them out, however. There are sadly few freeware solutions available, though we do detail one of them (using the above mentioned programs) later in the article.
Creating a DVD with Ulead DVD MovieFactory 3
Ulead sells several DVD and movie editing products, and these tend to be found often in DVD recorder software bundles. For this reason, and for their general ease of use, we figured it was a good idea to include a product by them in this guide.
Ulead's DVD MovieFactory 3 uses a very simple DVD creation process which is ideal for novice users, and thus ideal for this article. While it's by no means the fastest product out there (it can really crawl at times) it gets the job done with a minimum of unnecessary detail. Let's go through the DVD creation process: Start DVD MovieFactory 3 and choose the 'create video disc' option.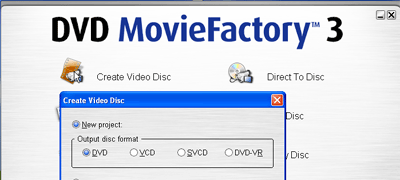 This opens up the first page, in which you can import and edit your video clips.