Beginners Guides: Essential USB Memory Drive Projects & Tips
---
Encryption, Firefox browser, word processing, arcade games and yes even an operating system can be run off your USB hard drive... if you know how! - Version 1.0.0
The USB memory key appears well on its way to replacing the floppy drive completely; as flash memory prices have dropped, these devices have become cheap enough that anyone can afford them. This, coupled with the easy support of such drives in Windows XP, has made them an extremely attractive device for anyone that needs to move files from place to place. USB memory drives are not just geek toys anymore!
As you will see here though, there's a lot more you can do with your USB memory key than just transfer files. These flexible miniature storage devices can put a whole range of portable applications, and even operating systems in your pocket.
In this guide, PCstats will reveal eleven tips, tricks and projects for getting more out of your current USB memory drives than you may have known was possible. From the mundane to the insane, we're sure you'll find something here that's worth trying, so let's begin!
Boot your computer with a USB drive
As long as your computer's motherboard allows booting from USB devices, your system will quite happily start from a correctly formatted USB key, just as it would from a hard drive. As you would imagine, this fact has led to enterprising users putting all sorts of interesting programs and operating systems onto USB keys.
We will get to some of these later in the article, but for now, let's look at how to turn your USB drive into a useful device for booting your system into DOS for troubleshooting, BIOS flashing , or any number of other purposes.
The emergence of 'boot from USB' features on all newer motherboards may well prove to be the final nail in the coffin for the venerable 1.44MB floppy disk. Previously, floppy disks were still essential troubleshooting tools, as they were the only device which could easily be used to 'clean boot' a PC into DOS (or a similar OS) for troubleshooting and BIOS update purposes. Now you can use your USB drive for the same things (provided your motherboard supports the feature). Let's find out how.
The first thing you need to make sure of is whether your motherboard's BIOS (Basic Input/Output System) supports booting from a USB drive. Reboot your computer, pressing the 'DEL' key several times as soon as the computer restarts. This should bring you to your system's BIOS setup screen.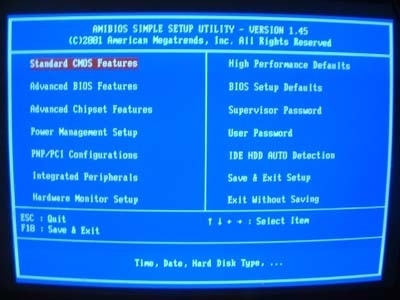 Due to the number of BIOS brands and variations out there, it's impossible to give a precise guide for this procedure, but this should give you the general idea. In most BIOS versions, you will need to go to the 'advanced BIOS settings' section and look for the '1st boot device' entry or the equivalent. Cycle through the possible options in the BIOS. Ideally, you are looking for the USB RMD-FDD option. Failing this, try USB ZIP and USB FLOPPY. If it's there, leave the entry set to it and save and exit to reboot your system.