The ASUS AX 600XT video card has three different TV-out methods available, component (Y, Pb, Pr), S-video and composite (RCA) in descending order of quality. Depending on what connections are available, choose one of the three methods and attach the appropriate cable to the TV. For component connections, the AX 600XT comes with a separate cable which can be connected directly between the card and the Television. For S-video or composite connections, use the breakout box included with the card. All cables attach directly to the TV.
Once the computer and the television are connected, boot the system into Windows XP. Wait until XP has fully loaded; if the television does not show the HTPC's display, recheck that the TV is on the right source, and then go to 'start\control panel\display' in Windows XP.
Hit the 'settings' tab and click the 'advanced' button. Go to the 'displays' tab.
depending on whether component or S-video/composite is being used, hit the power button next to either 'Y Pb Pr' (for component) or 'TV' (for S-video/composite). Hit 'ok'. There should now be an identical signal on the television.
Choosing an appropriate resolution for ther television
If you have a non-HD TV, you will want to use either 640x480, 800x600 or 1024x768 resolutions. Experiment with these three resolutions to find the one that suits your TV best. TV output will never be as sharp as a computer monitor on a standard TV, so don't be surprised if things are a little bit blurry. We will run down some tips to improve your TV computing experience at the end of the article.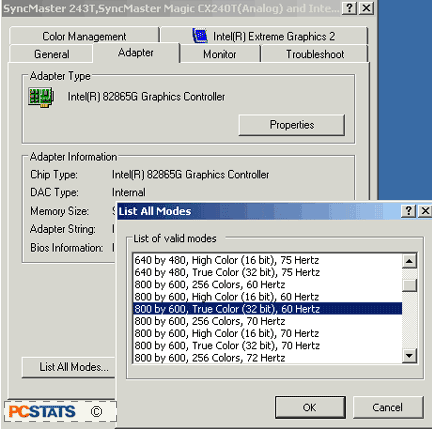 If you are using an HD-capable television, resolution should be either 640x480, 1280x720 or 1920x1080 resolutions.
Connecting to the home audio system
Now you need to connect your speakers to your HTPC. If you are using your television's built-in speakers, simply use a phono to stereo jack adaptor to connect your PC's audio out port to the audio input on your TV. If you are using separate speakers, use the appropriate plugs for your speaker type.