If your HTPC case did not come with the motherboard built-in as ours did, it's much easier to install the processor, heatsink and memory while the board is outside the case. We don't have the luxury of this approach though, since the i915 Intel motherboard is built right into the Aopen XCube case.
As you probably know by now, the newest Pentium 4 chips have no pins at all. Instead they merely have the gold electrical contacts where the pins (which are now built into the socket on the motherboard) will touch. While the lack of pins makes these chips much less fragile, the bottom of the processor should still not be touched, as the contacts can be damaged by the oils on your fingers.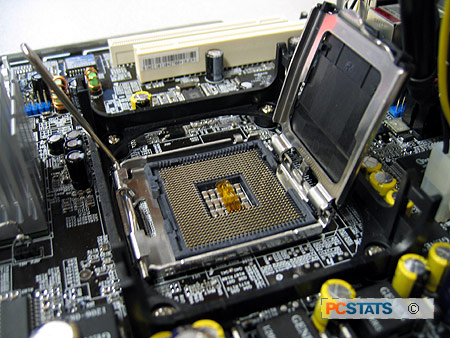 As you can see, the array of pins which connect the processor to the motherboard are now attached to the socket and they are very fragile and easily bent. All socket 775 Intel Pentium 4 motherboards feature the metal shim (load plate), which serves the dual purpose of locking down the processor once it is installed and protecting the pins from harm when it is not. Most motherboards also implement a protective plastic cover which fits over the load plate when no processor is present, hiding the pins completely. The lever secures the shim in place, holding the processor when it is installed.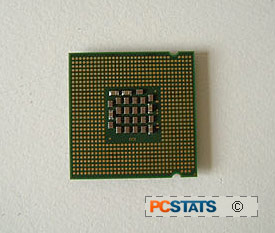 It is extremely important that the processor be installed slowly, carefully and vertically into the socket, and removed the same way. Any careless handling will damage the pins, leaving you with a useless motherboard. Now let's look at installing the socket 775 Intel Pentium 4 processor:
Gently but firmly press the lever down and away from the socket to release it, then pull it back until it hangs loosely. This will release the shim (load plate).
Using the small metal tab on the load plate, lift up both the plastic cover and the load plate to expose the socket and pins. Make sure not to touch the pins! Really, this is a case where we mean what we say, don't touch them!
Now remove the socket 775 Intel Pentium 4 processor from its box and protective covering. To take off the protective cover, hold the processor by its corners and release one of the plastic tabs. Be careful not to touch the contacts on the underside. Now holding the processor by its sides or corners, look at the bottom. Check for any damage or foreign material on the contacts.