Most Socket 775 heatsinks do not care about orientation; they can be installed facing any direction. This one is different though, since the Aopen XCube is so cramped inside a custom heatsink solution is used which does not correspond to the typical socket 775 heatsink mounting points. The fan needs to face to the right side of the case (as seen from the front) where there is a vent hole; this allows it to draw fresh air into the case. If you have any questions about the case or SFF chassis you may be using, it is best to consult the users manual. SFF chassis in particular often use non-standard heatsinks, so don't be surprised if your situation is different.
Place the heatsink down on top of the processor so that it aligns with the plastic retention mechanism surrounding the chip. This will correctly line up the base of the heatsink with the processor itself.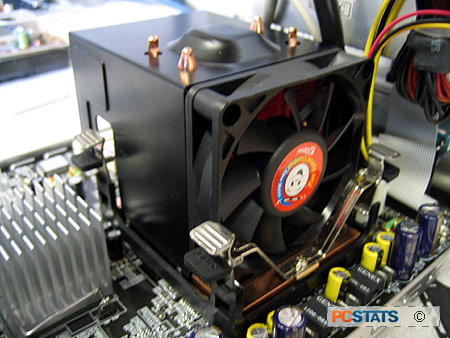 Now it's time to attach the heatsink to the plastic retention mechanism. Various models of cooler use different methods to do this, but it boils down to one of two things; either the heatsink clips directly to the motherboard through the four holes that are currently being used by the plastic socket 775 retention bracket, or the heatsink clips to the retention bracket itself. The heatsink we are working with does the latter.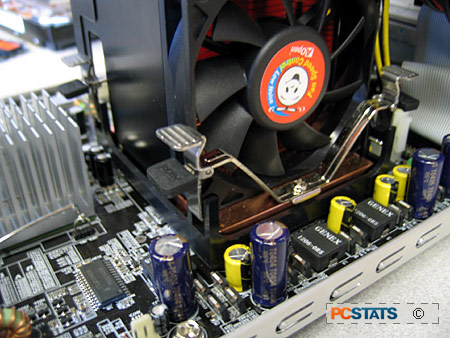 The metal tab is manipulated so that the hook on the end catches onto the retention bracket, then the black rubber tab is pressed down to lock the hook into place firmly. Repeat the same step for all four corners of the heatsink.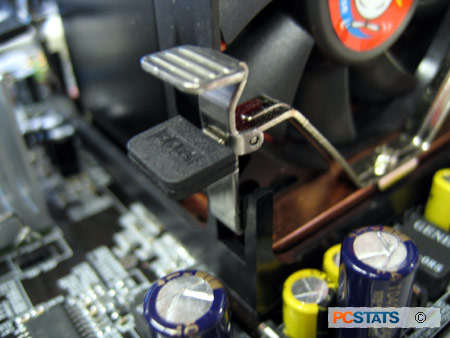 Finally, the power plug for the fan should be plugged into the correct fan header on the motherboard, which will generally read 'cpu_fan' or something similar.