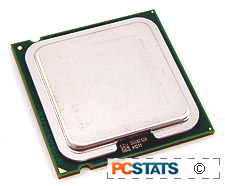 Now it's time to assemble the parts we are going to use to build our home theatre PC. We've taken care of the case and motherboard, and a CPU cooler was included with the Aopen XCube barebone system. The fully-copper Aopen ACP4SH heatsink is thermally throttled so that it only spins as fast as it needs to, which helps to keep noise down (but not to silent levels).
When selecting your own CPU heatsink, chances are that the original cooling solution that came with the processor will be just fine. We're not going to be doing any overclocking with this HTPC, and modern Intel and AMD heatsinks are engineered to be fairly quiet, and meet specific thermal guidelines from the start. If you want an absolutely silent solution, you will need to look elsewhere for low-noise third party cooling solutions, but for us, the stock heatsink will be entirely sufficient for this application.
Case, Motherboard and Heatsink
When selecting your own case and motherboard, it's really more a matter of your own taste than anything else, but for the motherboard, be sure that you have an 8X AGP or PCI Express x16 slot, as well as at least one free PCI slot. Additional PCIe x1 slots are a good idea too, but not essential. For the case, ensure that you check where the vents are positioned, so you do not block them if you stack your new HTPC with the rest of your entertainment equipment.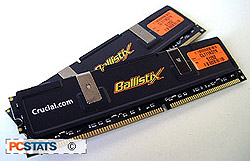 For processor and memory, we're going to make use of a 3.2GHz Intel P4 'E' processor and two 512MB sticks of Crucial Ballistix Tracer memory. The processor is quite a bit faster than is actually required for HTPC duty, but you might as well stick as much power as possible into the PC in case you decide to use it for other purposes.
The Crucial Ballistix DDR memory modules create some pretty light shows with built-in activity LEDs, but more importantly these modules are solid and dependable performers from one of the best memory companies out there.
Hard drive and Optical drive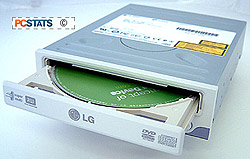 A nice fast hard disk is essential for a reliable HTPC, and for that role we opted for a medium price-range 80GB Seagate Barracuda 7200RPM SATA drive.
Since the typical HTPC is going to be the media hub of your home, you'll want the ability to burn onto CD and DVD as well as read DVD disks. The only sensible choice is a multi-format DVD writer. For this article, we'll be installing an LG GSA-4120B DVD/RW combo drive.
Networking options
Unless you want to run (or already have run) Ethernet cables throughout the house, a wireless network adaptor is the only way to go for a HTPC. While it's true that the other stereo components won't require an Internet or network connection, we're pretty sure you will immediately regret not having Internet capabilities available to the HTPC if don't hook it up to the internet. For one thing, networking the HTPC to the rest of your home computers makes transferring video and music files vastly easier.
Since the AOpen Xcube barebones system only has a single free PCI slot which we are reserving for the TV-tuner card, we chose a Gigabyte 802.11G wireless USB adaptor to provide wireless connectivity. Note that if your home is not currently set up for wireless networking, you will also need some sort of wireless access point or home gateway. See our guide to setting up a wireless network at home for more details. If setting up a wireless network is too much trouble, then used the wired network jack on the motherboard and run Cat5 cable to the HTPC.