As you've probably noticed, the Windows desktop can look less than ideal when displayed on a TV set. While most TV/multimedia playback software that comes with TV-tuner cards is optimized for TV-out display, and so is Windows XP Media centre, a plain old Windows XP desktop can appear blurry and hard to navigate. Let's take a look at some quick tips for mitigating this problem.
Ensure that the start menu is using large icons (right click on start button, hit 'properties' then 'customize' and select the appropriate option.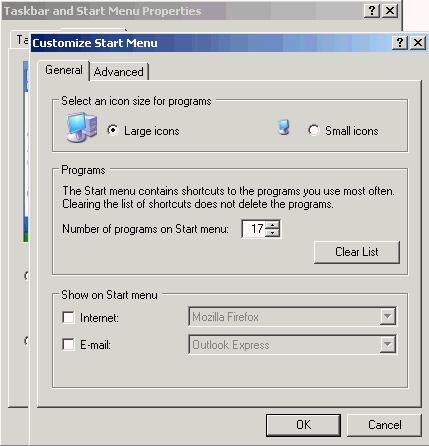 Use large or extra large fonts for the Windows desktop (go to 'control panel/display' and choose the 'appearance' tab, then choose the appropriate setting from the 'font size' dropdown box.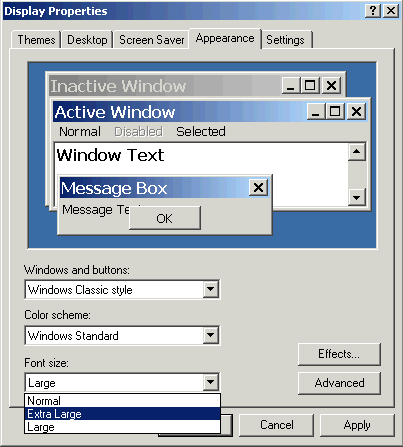 Clear as many icons off the desktop as possible. Standard icons like the recycling bin can be removed with the aid of the TweakUI program.
Enjoy your new home media centre
There you have it. A simple mid-range computer system in a nice case with the appropriate software becomes an absolute multimedia powerhouse and probably an essential part of your home entertainment setup. Keep in mind that unlike other stereo equipment, your HTPC can be easily upgraded with new hardware and software as it becomes available.
Find out about this and many other reviews by joining the Weekly PCstats.com Newsletter today! Catch all of PCstats latest hardware reviews right here.
Related Articles
Here are a few other articles that you might enjoy as well...
1. AMD Athlon64 3500+ Overclocking Adventure
2. Prometeia Mach II GT Phase Change Cooler Review
3. The Art of Overclocking; Is It For You?
4. The Underclocking Experiment
5. Network Cards & Overclocking