Photo Walkthrough - CPU Heatsink
Note the CPU socket is ZIF (Zero Insertion Force) and if you encounter any resistance installing or removing a 479-pin Intel Pentium M processor, make sure the socket is "unlocked." If you try to force the processor into the socket you will potentially damage both the CPU socket and processor!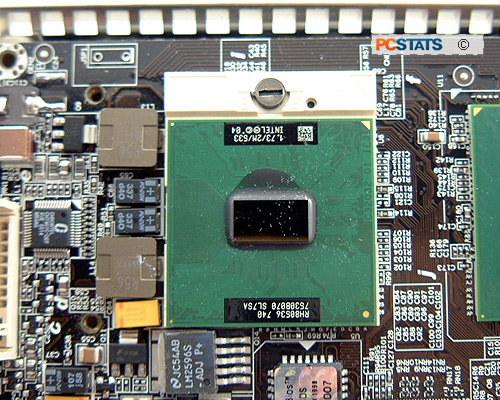 Insert the 479-pin Intel Pentium M processor into the ZIF socket and turn the little metal lock (it looks like a screw head) 180 degrees counter clockwise. For PCSTATS tests, we're going with a Pentium M 740 CPU. heatsink.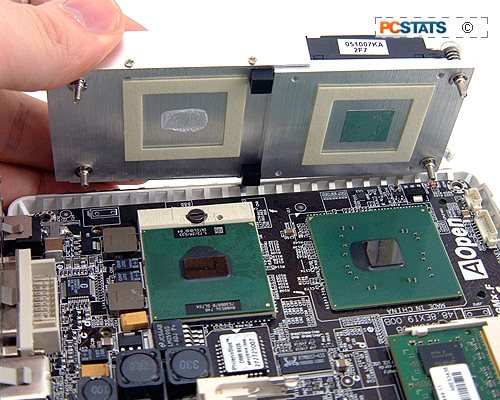 Reposition the heatsink and tension all four screws in a criss cross a little bit at a time. This will ensure the heatsink is secured evenly on the chips below. Apply a small amount of thermal compound to the processor core (none to the northbridge) and get ready to re-attach the CPU/chipset.
experts tip: exhaust towards the rear

after installing the cpu in the socket, it is vital to orient the cpu/chipset heatsink in the right direction since it is possible to mount it backwards. the squirrel cage fan should always be mounted above the chipset and closer to the front of the case. the exhaust section with the two foam pads will always be near the back. the possibility of physical damage if mounting the heatsink on wrong are real and it is possible to crush the cpu core. after mounting the heatsink back on, don't forget to plug in the three pin fan connector.

Comments and Feedback? Suggest a Tweak.