The AOpen Mini PC MP915-B (Super Multi) has one open Mini PCI slot available for expansion hardware. It's really only useful for installing a mini PCI wireless network card.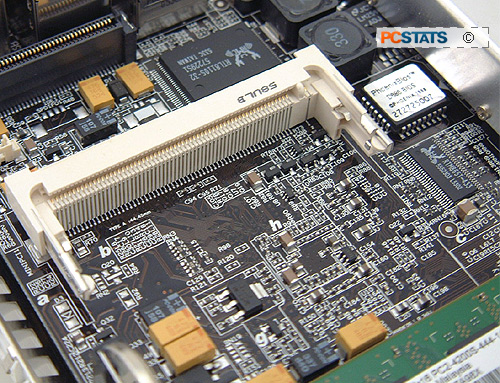 The Mini PCI slot is for the optional wireless network card, it is installed like memory. Don't forget to punch the hole on the rear I/O for the wireless antenna.
Installation of mini PCI devices is similar to installing system memory; once the locks click, remember to push out the hole on the rear I/O port for the wireless antenna and viola the AOpen Mini PC MP915-B (Super Multi) has wireless networking capabilities.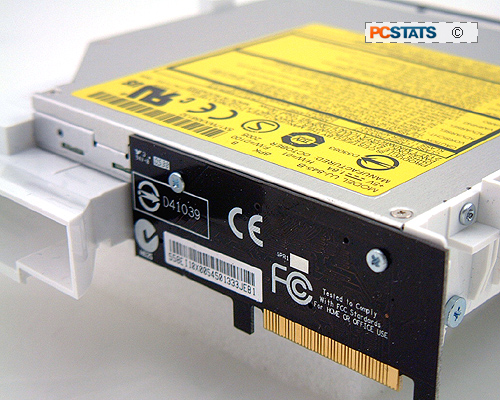 Put the aluminum top square above the motherboard and place it down. The card edge connector that mates with both the hard drive and DVD writer will automatically slide into the socket on the motherboard. This solution is much better than having cables cluttering up the computer interior.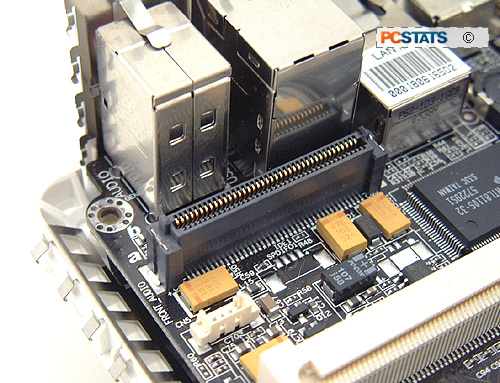 Before users place the aluminum top back on, make sure all the wire harnesses are connected. Once that has been checked, place the aluminum top just above the motherboard and side down. The plastic drive cage might catch onto the EMI finger gasket, if there is a bit of resistance when installing the aluminum top, just check around the edges. You can tell the top is on properly when you hear a click, once that happens, thing slide much easier.
When piecing the AOpen Mini PC MP915-B back together, watch the EMI finger gasket so that it does not rub along the outside of the aluminum shell. If it does, it will scratch up the aluminum paint job. Considering how pretty the AOpen Mini PC is, it would be a shame to blemish up the surface by carelessness.
Next up the BIOS, and then it's time for benchmarks!