There is little doubt that Small Form Factor (SFF) computers have revolutionized the way technology fits into the home, media room, and our lives. Yet as computers continue to advance by leaps and bounds, the whole the small form factor PC trend seems to be stuck on the initial chassis design Shuttle Computers first introduced in 2001. Now mind you, the toaster-sized SFF PC box isn't bad, it just doesn't fit into all situations.
There have been a few half hearted attempts to steer the SFF PC market into other directions, and AOpen is the latest to try its luck. AOpen's mini PC's are some of the most innovative machines we've seen in a long time, and what really sets this small silvery box apart from everything else in the SFF PC universe is that its essentially built with laptop components. The hard drive, power supply, motherboard chipsets and CPU are all of the mobile variety - drawing less power, taking up less size, and creating less noise and heat than equivalent desktop computer parts. Aside from the keyboard, mouse and monitor requirements of the AOpen miniPC, you could be forgiven for thinking it's a notebook having just looked at the spec sheet.
The cute little AOpen mini PC MP915-B (Super Multi) system is based on the Intel 915GM chipset and supports Socket 479 Pentium M 400/533 MHz processors. There is a single 200 pin DDR-2 SO DIMM slot which accepts up to 1GB of DDR2-400/533 memory. On devices packed into the dictionary sized PC include a Realtek Gigabit network adaptor, a 5.1 channel sound card, IEEE 1394a, an onboard Intel GMA900 videocard and even a dual layer slot loading DVD writer!
The system supports IDE 2.5" notebook hard drives and has a miniPCI slot for expansion devices, although the only real option is to add a wireless networking card. All this goes barebones for the price of just $388 CDN ($333 USD/£190 GBP) which is about the same price as a mainstream SFF PC! The AOpen mini PC MP915-B (Super Multi) is also sold as a complete system from most resellers - so the options for users is pretty open. Barebones systems will require a CPU, memory and hard drive.

AOpen mini PC MP915-B Super Multi SFF PC

Includes:

AC Adapter, Video output cable, DVI to analog converter, drivers

Installed Specifications
Memory: 512MB PC2-4200
Processor: 1.73GHz Intel Pentium M 740
Hard Drive: 60GB Hitachi 2.5" HDD
Optical Drive: UJ-845B DVD/Combo
Motherboard: i915 GMx-F
The sleek looking AOpen mini PC MP915-B (Super Multi) system is 165x50x165 mm in size and weighs just over 1.5kg when fully loaded. A slot loading DVD writer is included in the barebones package, and the button for ejecting disks is the only other control to dot its clean aluminum chassis than the power switch. AOpen get away with such a small chassis size because the 65W Fortron DC12v power supply is external. The power supply supports 100-240VAC input range, which means the AOpen mini PC MP915-B can be used anywhere in the world.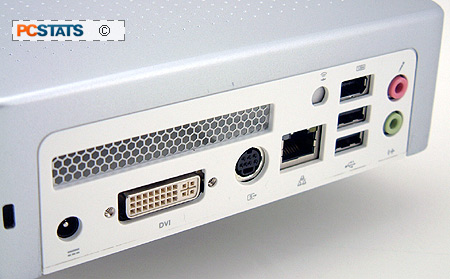 The super-compact size of this system allows the AOpen mini PC M915-B (Super Multi) to be placed pretty much anywhere, and its stylish aluminum chassis doesn't create an eye sore.
In fact, the first impression one gets after taking the PC M915-B out of the box is that it's a small DVD player and not a PC at all.
The overall AOpen kit is well designed and the manual does an excellent job at explaining installation and initial set up.
I know because even though the AOpen mini PC MP915-B (Super Multi) review sample didn't come with one, the one I purchased locally did - I use it for my media PC.
The AOpen mini PC MP915-B comes in two flavors, one with a slot loading DVD/CD-RW combo drive and one with a slot dual layer DVD writer. Considering an optical drive is included in the package, the price of the AOpen mini PC barebones system is quite competitive.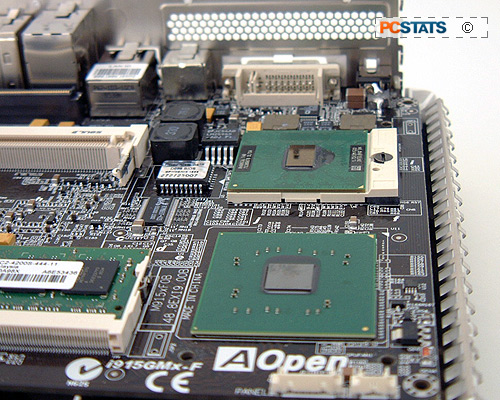 Since the AOpen mini PC MP915-B is based on notebook parts, it is quieter than even a standard SFF PC. Not just that, the system also does not produce as much waste heat at regular desktop machines will. Ultimately, if you are power conscious you'll spend less money on electricity running a computer like this. We'll dive into the AOpen mini PC MP915-B in detail in a moment, but first let's take a closer look at this remarkably sexy little PC... it kinna reminds you of a MacMini doesn't it?