The AOpen Mini PC MP915-B (Super Multi) is not an enthusiast's PC, so the BIOS options are not in anyway tuned for those kinds of needs.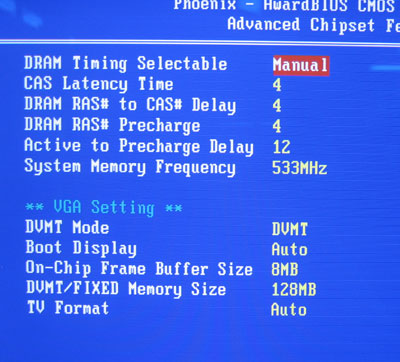 Rather it is designed as a 2D desktop/workstation replacement and we find standard desktop computer option in the BIOS, including some memory adjustments in the Advanced Chipset Features section as well as the ability to change the Mini PC MP915-B's video output.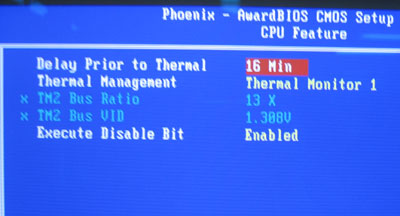 It should come as no surprise that the AOpen Mini PC MP915-B (Super Multi) does not have any voltage or FSB options. If you want to overclock, get a regular PC.
Prelude to Benchmarks
The details of how the AOpen Mini PC MP915-B (Super Multi) test system was configured for benchmarking; the specific hardware, software drivers, operating system and benchmark versions are indicated below. In the second column are the general specs for the reference platforms this Pentium M small form factor PC is to be compared against. Please take a moment to look over PCSTATS test system configurations before moving on to the individual benchmark results on the next page.

PCStats Test System Specs:
sff system specs
desktop system specs
processor:

intel pentium m 740

clock speed:

13 x 133 mhz = 1.73 ghz

motherboards:
aopen mini pc mp915-b (super multi)

shuttle xpc sd11g5 (i915gm)

videocard:

integrated intel 915gm graphics

memory:
512mb pc2-4200 ddr2

2x 512mb corsair twin2x1024-8000ul

hard drive:
60gb 2.5" Hitachi
74GB Western Digital Raptor
CDROM:
DVD/Combo
AOpen Combo 52x
PowerSupply:
65W Delta DC12V
Delta 22W 12VDC/18A
Heatsink:
AOpen Custom
Shuttle ICE Heatsink
Software Setup

WindowsXP SP2
Intel INF 7.2.1.1003

WindowsXP SP2
Intel INF 7.2.1.1003

Benchmarks

SYSMark 2004
Business Winstone 2004
Content Creation 2004
Super Pi
SiSoft Sandra 2005
PCMark04
3DMark2001SE
3DMark05
X2: The Threat
UT2003
UT2004
Doom 3