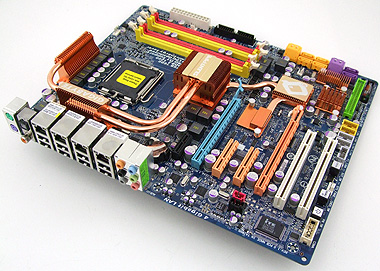 How is it that Intel's mainstream P45 Express chipset is the centerpiece of Gigabyte's EP45-DQ6 motherboard, which retails for around $280? Are you missing out on a lot by sticking with the Intel P45 Express chipset when you could find an Intel X48 board for about the same?
No, not really. The only notable difference between the two chipsets comes down to running two high-end AMD Radeon videocards in Crossfire mode. In that case, Intel's X48 chipset has sufficient PCI Express lanes that it can provide 16 lanes of bandwidth to each videocard. The P45 Express can manage 8 lanes of bandwidth each to Crossfire'd videocards. This can theoretically bottleneck faster video cards, but realistically that's unlikely to cramp your gaming style.
The Gigabyte GA-EP45-DQ6's feature list is extensive, almost to the point of overkill. It's hard not to see the benefit of nearly a dozen SATAII ports with support for various modes of RAID between them... four of which can be hooked up to the supplied brackets to full fill the otherwise vacant eSATA role. Certainly, plenty of USB2.0 is a welcome sight, but three FireWire ports seems a little excessive. The going rate for Firewire devices is two. The situation really goes HUMVEE when it comes to networking. The Gigabyte GA-EP45-DQ6 has four PCI Express based Gigabit LAN (10/1000) connectors on the rear I/O panel. These four RJ-45 connections support network teaming - a method of joining individual network connections for added throughput - which can improve data connectivity substantially under the right conditions, at a LAN gaming event, or with critical applications when there is a need or network redundancy. Still, four Gigabit LAN ports? Two would have been more than enough.
One of the more unique technologies at play here is Gigabyte's Dynamic Energy Saver (DES) Advance. When activated, it yields a modicum of power thriftiness to lessen your electrical footprint, and over the course of an entire year lower power bills. Motherboards with power saving features should be standard. If every computer on the planet had an energy efficient A-PFC power supply, motherboard and low power processor, the impact of computers would certainly be reduced.
As it stands, in PCSTATS tests the Gigabyte GA-EP45-DQ6 motherboard and its DES technology was good for shaving off 8W of power use under heavy processor load, 3W while idle. Still, technologies like Gigabyte's DES, and ASUS' EPU are a step in the right direction and PCSTATS actively encourages all motherboard makers to develop this further. As to which technology is more power efficient... well that's an article for another time. ;-)
Gigabyte's overall attention to detail really shines through once the GA-EP45-DQ6 is placed under close inspection - the labeling for the USB and other headers, the LED indicators next to the memory and PCI express components make troubleshooting easier and the handy click-connect SATA cables are all evidence of thought put into making the end user experience as smooth and easy as possible.
On the overclocking front PCSTATS was able to push the GA-EP45-DQ6 board to speeds of 525MHz FSB with an Intel Core 2 Duo E8400 processor and a trusted pair of Corsair's DOMINATOR Twin2X2048-8888C4DF DDR2 memory. Ultimately, the Gigabyte GA-EP45-DQ6 motherboard is suitable for a Crossfire gaming PC or workstation computer with future PCI Express peripheral expansion on the horizon. For the enthusiast who has a bit of extra cash and wants a motherboard which supports network teaming, that's easy to troubleshoot and overclock while providing essential Crossfire support, the Gigabyte EP45-DQ6 is well worth considering.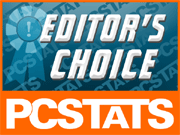 Find out about this and many other reviews by joining the Weekly PCstats.com Newsletter today! Catch all of PCSTATS latest reviews right here.
Related Articles
Here are a few other articles that you might enjoy as well...
- ECS A780GM-A AMD 780G Motherboard Review
- Biostar TF8200 A2+ GeForce 8200 Motherboard Review
- Foxconn A7DA-S AMD 790GX Motherboard Review
- MSI X48 Platinum Intel X48 Express Motherboard Review
- MSI P35 Platinum Combo Intel P35 Express Motherboard Review
- ECS P45T-A Intel P45 Express Motherboard Review
- Biostar TPower I45 Intel P45 Express Motherboard Review
- ASrock Penryn 1600SLI X3-WiFi nForce 680i SLI Motherboard Review