Here's how the Gigabyte EP45-DQ6 motherboard stacks up in real life against a couple different motherboards. We have no way of directly measuring motherboard power draw, so PCSTATS measures total system power draw and compares that in CPU-loaded (max value recorded in Prime95) and idle states (at Windows Vista desktop). An Extech 380803 AC Power Analyzer and A-PFC compliant PC Power and Cooling 750W power supply were used for these tests.
System Power Draw Tests: (PCPower 750W PSU)
Desktop Idle (W)
Points
Ranking
Gigabyte GA-EP45-DQ6 (P45 333/1066)
145.5
Gigabyte GA-EP45-DQ6 (P45 333/1066) W/h Power Saving ON
142
ECS P45T-A (P45 333/800)
146
Biostar TPower I45 (P45 333/1066)
126.6
Prime95 Stressed (W)
Points
Ranking
Gigabyte GA-EP45-DQ6 (P45 333/1066)
197.7
Gigabyte GA-EP45-DQ6 (P45 333/1066) W/h Power Saving ON
189
ECS P45T-A (P45 333/800)
196
Biostar TPower I45 (P45 333/1066)
183.8
[*This figure represents total system power consumption in Watts, either with the system at idle, or the peak value recorded while running Prime95.]
Really, neither PCSTATS testing or Gigabyte's software show dramatic decreases in power draw when the Dynamic Energy Saver functions are activated. At most it saved 3W - 8W depending on its idle or stressed state fo the Core 2 Duo E6750 processor installed into the EP45-DQ6 motherboard.. It is important to realize that even small power savings like this accumulate over time, especially for users who leave their computers on constantly, or for those living in regions where energy prices are high. When it comes to entire offices and labs running many computers simultaneously, having energy-efficient motherboards can shave a significant amount of money off of yearly electricity costs.
Generally speaking, the power efficiency of a motherboard is a small part of the whole equation, but it's one we're happy to see computer manufacturers addressing more aggressively.
Ultra Durable 2 = better motherboards?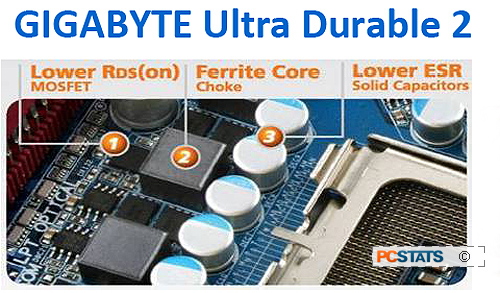 Most mainstream and enthusiast grade motherboards have migrated to all solid state capacitors. These electrical components, along with ferrite core choke coils, Low RDS MOSFET's and comprehensive passive cooling thermal solutions form the backbone of what Gigabyte call Ultra Durable 2. The combination of all these parts, according to Gigabyte, helps reduce temperatures, improve power efficiency to the CPU and improve PC stability under load.
You may or may not recall the problem of burst capacitors that turned into an industry wide epidemic a few years ago. What caused poor quality electrolytic capacitors to burst after ~3 years is a story of industrial espionage, stolen chemical recipe's, and cut rate electronic components.
Consequently, the benefits of higher quality Japanese made electrolytic capacitors, and conductive polymer solid-state aluminum capacitors has been stressed on virtually every motherboard to have them since. Solid state capacitors improve overall stability, and last significantly longer than the electrolytic variety.
In the above slide are the three components of Gigabyte's Ultra Durable 2 approach. This is hardly a unique collection of electrical components, so it's mainly significant because Gigabyte is making an effort to stress its build quality over features. Shown here are the Ferrite Core choke coil (this helps filter out EMI/RF interference), the LOW RDS(on) MOSFET (power circuitry), and the 'All-Solid' aluminum Polymer capacitors.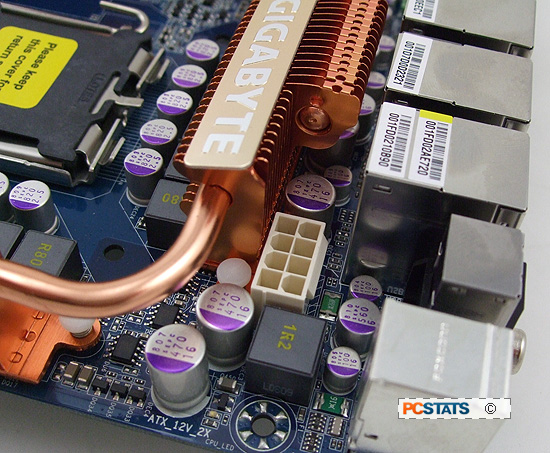 Ultra Durable 2 uses solid state capacitors, Ferrite Core chokes and low RDS MOSFETs. The Gigabyte EP45-DQ6 motherboard has two power phases for both memory and Intel P45 Express chipset, 12 power phases for the LGA775 processor.
Compared to standard Electrolytic capacitors which use a fluid electrolyte, the 'all-solid' style aluminum polymer capacitor is beneficial because it has a longer lifespan for the same given elevated temperature that is common to the inside of a computer. As temperatures increase, the lifespan of electrolytic capacitors begins to decline. The same general rule of thumb holds true for MOSFETs as well, and according to Gigabyte's information the LOW RD(on) variety can operate with decreased heat output. A Ferrite Core RF Choke has high electronic resistance, better high frequency operation, operates at a lower temperature, has reduced magnetic leakage, and several other qualities Gigabyte engineers feel are desirable.
Next, PCSTATS examines the highlights of the Gigabyte EP45-DQ6 motherboard itself. You'll want to have a good look at its silent chipset heatsinks...