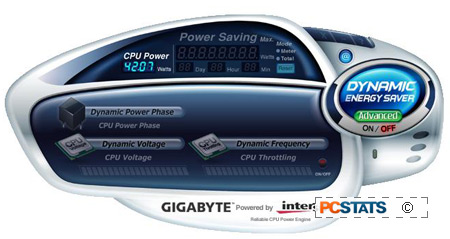 Computer power consumption is just one more area where there is room for making things more energy efficient. Particularly as the number of computers per household continues to rise, not to mention the exponential leaps in computer use world wide.... Modern computer systems with multi-core CPUs and multi-GPU videocards have forced power draw up pretty high, but thanks to the "Green Revolution" motherboard makers are starting to offer board-level power-saving and power efficiency features. The Gigabyte EP45-DQ6 is no exception. With it Gigabyte package a little something called Dynamic Energy Saver Advanced technology, and although the savings are still minor it's worth flicking on.
Dynamic Energy Saver technology works on several fronts, but most significantly by adjusting the amount of power phases used to keep the CPU operating. Depending on the processor's load at any given moment, some or most of the motherboard power phases can be disabled to reduce total system power draw. ASUS have similar technology which uses a two-step process to keep either half or all the power phases on at any given time. Gigabyte's Dynamic Energy Saver has the ability to activate power phases incrementally, and turn them off when they're not being used.

PCSTATS tested Gigabyte's Dynamic Energy Saver software on the EP45-DQ6 motherboard to see just what it can do, but first lets take a closer look at what it offers up.
The Dynamic Energy Saver tool rests in the system tray once the software is installed. The main window displays current CPU power consumption in Watts (here at 42.07W) care of an Intersil PWM chip that doubles as a power meter. The user has full control over DES, it can be turned on or off with the flick of a switch. In situations where you need the full power of your computer, say for gaming or really intensive applications you can easily disable DES by turning it off.
The power meter monitors moment-to-moment CPU power consumption, whether DES is on or turned off. Here's the CPU power when the computer is idle, it's drawing about 5.5W. Under load the CPU power draw jumps up to around 42W.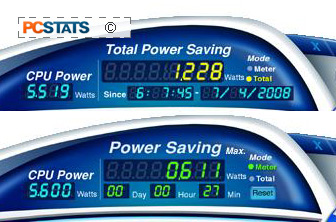 When enabled, DES displays several points of information: Cumulative Watts of power saved, and current Watts being saved with DES on vs. the tool not being used. The two other configurable options within the system are Dynamic Voltage (three levels) and Dynamic Frequency (on/off). Dynamic Frequency is basically CPU throttling by underclocking - a method used on laptops for many years to improve battery life. The Dynamic Power Phases are represented by twelve little engines, which blank out as they are dynamically turned off, if unnecessary. On the EP45-DQ6 motherboard a string of LED lights go on or off to indicate how many CPU power phases are turned off.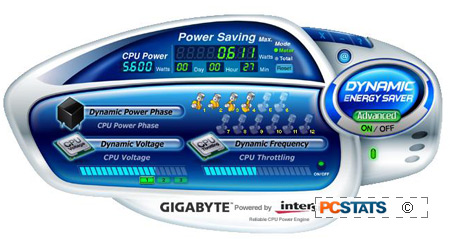 Pairing the metered mode together with Prime 95 running in the background gives a quick glimpse at what Gigabyte's Dynamic Energy Saver can do. With all power savings turned to their minimums and the processor Dynamic Frequency adjustment off, the system was run for five minutes under heavy load. The power saving meter reported were a mere 0.2W saved. The same test was repeated with power saving features flipped to the maximum settings, and after five minutes of Prime 95 testing the Gigabyte software reported a 0.43W savings. It's not much, but if we multiply that by a year the power savings add up.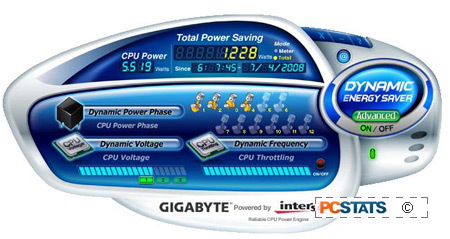 DES Advanced does support power phase switching even when the motherboard is being overclocked, although we fail to see the point of overclocking and power saving features being blended together.