Intel's P45 Express chipset has become incredibly popular with both system builders and regular computer users. Based on the P35 Express chipset that came shortly before it, but with official support for 1600MHz FSB 45nm processors, the P45 is said to be Intel's last core logic for legacy socket 775 CPUs. Now due to the sheer proliferation of P45 Express-based motherboards on the market, picking up a motherboard can be... well, quite challenging. Gigabyte is betting that connectivity will be the edge that propels its GA-EP45-DQ6 motherboard to the forefront, along with some innovative power saving technologies.
In addition to the P45 chipset's inherent PCI Express 2.0 and dual videocard Crossfire support, Gigabyte's EP45-DQ6 motherboard boasts no less than four gigabit network ports, ten SATA channels, three IEEE1394 Firewire and twelve USB2.0 ports! Follow along as PCSTATS reviews the performance, overclocking and 'Dynamic Energy Saver Advanced' power saving features of Gigabyte's GA-EP45-DQ6 motherboard, an enthusiast platform that packs in every feature you can think of.
Based on the Intel P45 Express and ICH10R southbridge, the Gigabyte GA-EP45-DQ6 motherboard supports all socket 775 Intel processors running on an 800/1066/133/1600 MHz FSB - from lowly Celerons and Pentium Ds to exotic Core 2 Extreme and Core 2 Quad processors. Up to 8GB of 667/800/1066/1200MHz DDR2 memory can be installed, we'd recommend starting with at least 2GB for smooth Vista running. For good measure, the board make uses of dual BIOS chips, so chances of a bad BIOS flash are greatly reduced.

Gigabyte GA-EP45-DQ6 Motherboard



Includes:
Driver DVD, User Manual, IDE/Floppy Cables, (6) Serial ATA Cables, (2) Molex to Serial ATA Power Cables, (2) eSATA cables, (2) eSATA PCI brackets, Firewire bracket, I/O Shield
Any gamer on the market for a Crossfire capable motherboard will be pleased with Gigabyte's EP45-DQ6 motherboard and its pair of 2nd generation PCI Express x16 slots. With only one PCI Express x16 videocard installed, there are 16 PCI-e lanes dedicated to it, but under Crossfire both videocards will run in x8/x8 mode. Alongside are two PCI Express x4 slots for high bandwidth peripherals, which while physically shorter than a full size PCI express x16 slots are open at the end so full-size PCI Express x16 videocards can be installed (as well as PCI Express x1 devices).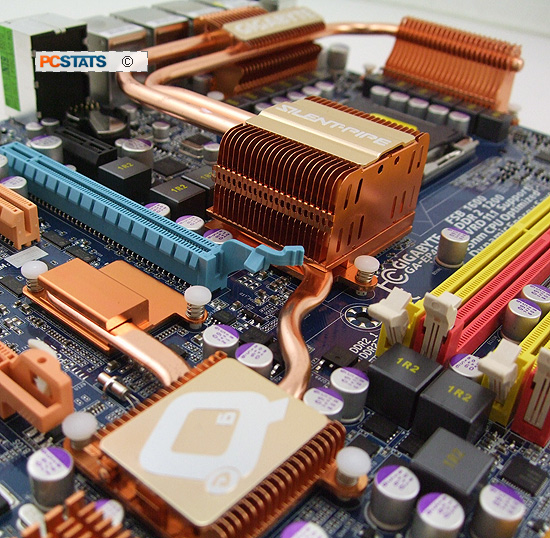 For good measure, there is one PCI Express x1 and two 32-bit legacy PCI slots.
Storage considerations are addressed by six SATA II ports off the Intel ICH10R (RAID 0, 1, 5 or 10) and four additional SATA II ports from a SIL5723 controller (RAID0,1) which also handles the ATA-133 IDE connection.
Three independent RAID arrays can be configured on this motherboard, at least one of which is BIOS based. Gigabyte's E45-DQ6 includes two technologies the company is especially focusing on; Dynamic Energy Saver and Ultra Durable 2. We'll touch on the former in a moment, the latter is basically a collection of electrical components which last longer. Chief among them is the use of all solid state capacitors.
The Gigabyte EP45-DQ6's rear I/O panel packs in four 10/1000 Gigabit LAN jacks! These RJ45 jacks can be teamed into one big network connection, improving overall traffic throughput and making it possible to bypass stalled or failed connection packets and route information through the other network jacks.
All four jacks can be configured to work as a router to other computers and devices on a private network, allowing the EP45-DQ6 to potentially double as a home gaming server.
Rounding out the feature list is 7.1 channel High Definition Audio which includes Dolby Pro Logic (106 dB signal to noise ratio), and optical and coaxial SPDIF connections.
The Gigabyte EP45-DQ6 costs around $270 CDN ($240 USD, 130GBP), but this extra money does get you one hell of a bundle. Aside from the pile of regular accessories in the box are five Click-Connect SATA cables; these use a mechanical lock to secure the data cables into their sockets in much the same fashion as a RJ45 or RJ11 connector is fastened in place. Oh, and the Gigabyte EP45-DQ6 motherboard also comes with a copy of Norton Internet Security on the disc - it's quite an extensive bundle!