Overclocking Results:
Intel's P45 Express chipset is as overclocking friendly as they come, but PCSTATS has seen a range of overclocking results from the P45 Express motherboards we've tested thus far - so we're eager to see just how the Gigabyte GA-EP45-DQ6 motherboard stacks up in this respect.
As usual, PCSTATS dropped in a 45nm 1333MHz FSB Intel Core 2 Duo E8400 processor and a 2GB set of Corsair's DOMINATOR Twin2X2048-8888C4DF memory, then powered the board up. The Core 2 Duo E8400 CPU replaces the Intel Core 2 Duo E6750 for our overclocking tests because the E6750 won't go past 475MHz any longer. Overclocking can be murder on hardware... and it's always the luck of the draw!
Let's begin, first we changed CPU clock multiplier from 8x to 6x, and set the memory to run at the lowest possible divider (DDR2-800). Starting at 333 MHz FSB the speed was increased in 15 MHz jumps.
Overclocking progressed quite smoothly between 333MHz FSB and 400MHz, and after that it wasn't difficult to push the Gigabyte GA-EP45-DQ6 motherboard to 450, 475, 485, 495 then 525MHz. As the clock speed approached 540MHz the system crashed at POST. We tried upping the CPU/memory voltage a little but with little gain switched those setting back to Auto.
After a while trying this that, we eventually settled on an overclocked speed of 525MHz which booted into Vista just fine. With some more time, and more tweaking I suspect you could push the Gigabyte GA-EP45-DQ6 motherboard further, but for our purposes a maximum overclock of 525MHz is a good indicator of what to expect from this platform.
BIOS Tweaking Tools
The BIOS controls how the motherboard communicates with all the peripherals connected to it, and is a crucial component for any good well rounded motherboard. PCSTATS is only going to highlight the tweaking features so you'll know what to expect.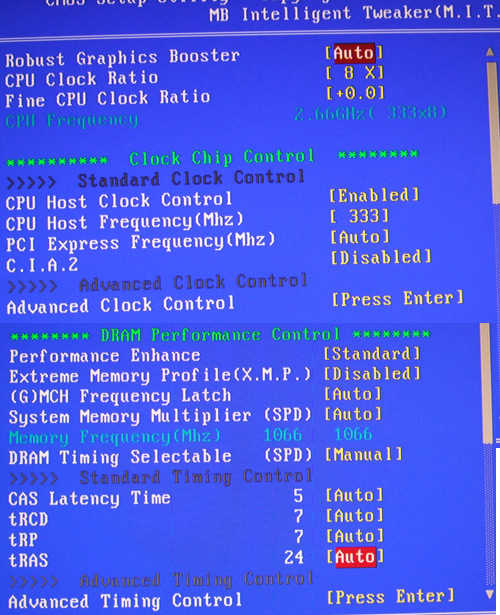 The main CPU and RAM frequencies on the Gigabyte EP45-DQ6 motherboard are easily adjustable, and put the more common tweaking elements close together. More specific aspects of latencies and timings are buried within their own sub-menus.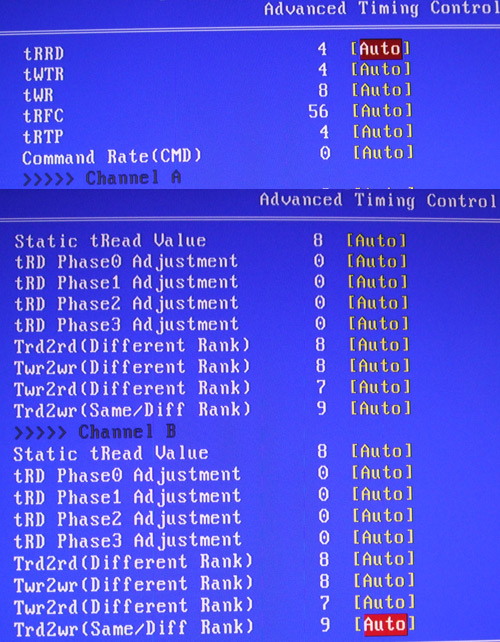 Like this menu right here. The individual channels of memory can also get their own timings, which can at times compensate for using RAM with mismatched timings.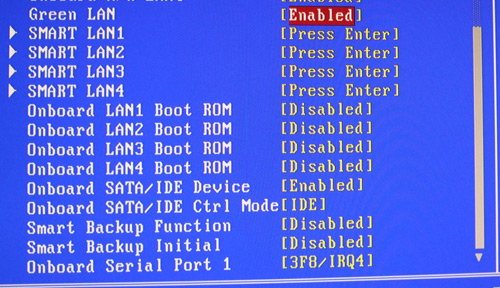 Smart LAN functionality turns off power to the additional LAN ports when they're not in use. Given Gigabyte's push to make this board save as much energy as possible, having this option makes a lot of sense.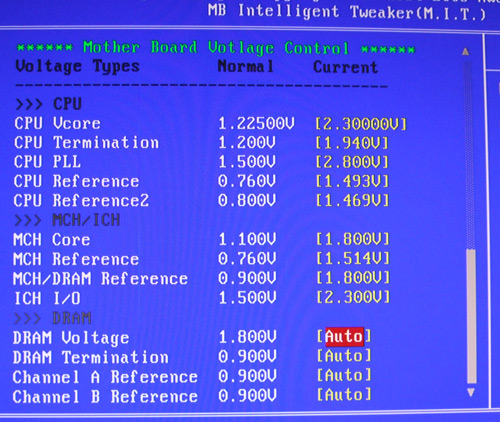 Voltages can be adjusted in increments as small as 10mV at a time. The maximum voltages are displayed here, and they're more than enough to fry most computer components at these levels. Be careful before changing any power settings on a motherboard.
Prelude to Benchmarks
The details of how the Gigabyte GA-EP45-DQ6 motherboard test system was configured for benchmarking, including the specific hardware, software drivers, operating system and benchmark versions are indicated below. In the second column are the general specs for the reference platforms this Intel P45 Express based system is to be compared against. Please take a moment to look over PCSTATS test system configurations before moving on to the individual benchmark results.

PCSTATS Test System Configurations