The layout of a motherboard is always a compromise of trying to cram in as many components and features as possible on to a PCB, while still making sure that it's possible to actually fit every expansion card, heatsink and cable on board simultaneously in a clean, connectable fashion. Gigabyte deserves recognition for the work they've done with the Gigabyte EP45-DQ6 motherboard. Take a look at this bank of 3.0Gbps SATA II ports: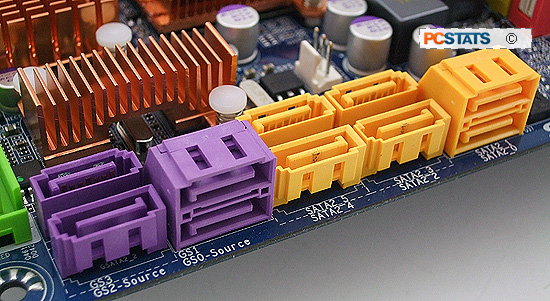 Half of the SATA ports are mounted perpendicular to the PCB, which makes them easier to connect to the included eSATA brackets, while the data ports that are a parallel to the PCB provide cleaner cabling to internal hard drives. This kind of attention to detail is present throughout the EP45-DQ6. Incidently, the four purple SATA 2 jacks are for the Gigabyte SATA2 RAID chip, the others Intel Matrix Storage (RAID).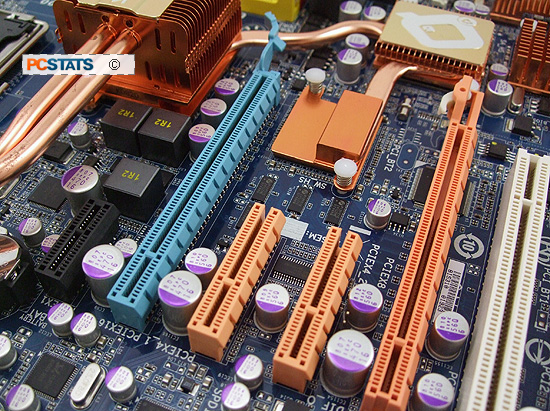 There's enough space between the PCI Express x16 expansion slots to run two AMD Radeon cards in Crossfire mode and still have room for a PCI Express x1 and PCI expansion card. Here are a few other nice touches on the Gigabyte EP45-DQ6 that caught PCSTATS' attention.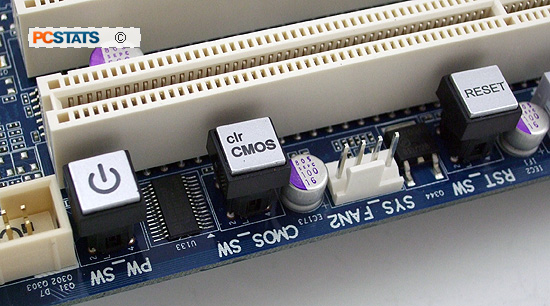 Physical power and reset buttons make setting up a PC for the first time outside the case a pleasure. It's a good tip to do this before dropping all the hardware into the case, just to make sure your newly assembled PC works. The buttons are lit up so they're easy to find in a dark PC case too.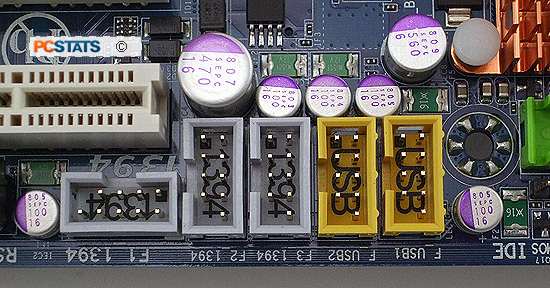 The Gigabyte "license plate" Firewire and USB2.0 headers make it obvious which bracket cables go where.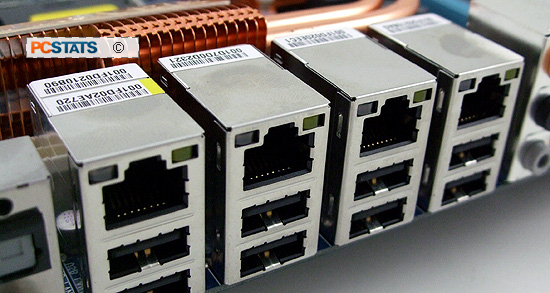 Four 1GBe network connections can be teamed into one effective 4GBe Ethernet connection to local switch/router. Internet connections will still be limited by your cable modem speed (typically 10/100 or 10/1000), but this kind of connectivity works well in LAN gaming environments.
Next up, PCSTATS takes a closer look at the Gigabyte EP45-DQ6 motherboard.