Intel's P45 Express is the companies latest mainstream-performance chipset, replacing the P35 Express. The two chipsets are very similar, with the only real difference from a feature standpoint being the inclusion of the PCI Express 2.0 spec and pairing with the ICH10 series southbridge. The Intel X48 Express officially supports FSB 1600MHz processors, but many Intel P45 boards do too (check the mobo specs to be certain). In most other respects the feature lists of P45 and P35 chipsets are identical. Intel's 4-series chipset family includes the P45, G45, P43 and G43 Express.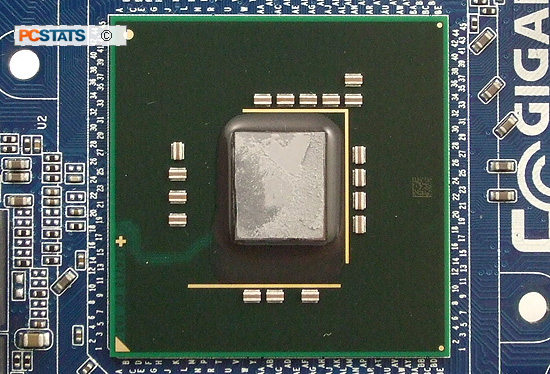 The Intel P45 Express Northbridge chipset.
The Intel P45 Express supports Intel socket 775 processors with a Front Side Bus of 800/1066/1333/1600MHz, and incorporates a memory controller that accomodates up to 8GB of DDR3 1333 MHz or DDR2 1066 MHz speed memory (depending on what the motherboard manufacturer implements). It has sufficient PCI Express lanes to accommodate a single videocard with 16GB/s bandwidth, or two videocards running in Crossfire with 8GB/s bandwidth each. PCI Express 2.0 compliant graphics cards are supported natively in either configuration.
There continue to be six PCI Express lanes associated with the ICH10/R Southbridge. Between the Intel P45 Express Express Northbridge and ICH10/R Southbridge is a dedicated 2GB/s Direct Media Interface (DMI).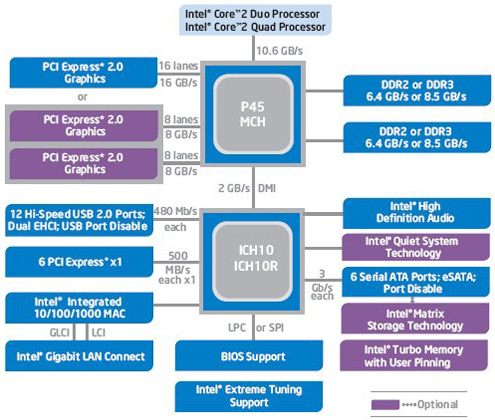 The Intel ICH10R Southbridge chipset supports six 3GB/s Serial ATA II channels (RAID modes 0, 1, 5 and 10) as well a 7.1 channel Intel high definition audio, 12 USB 2.0 ports, six PCI Express x1 lanes, and an integrated Intel GigABIT MAC that runs through the PCI Express bus.
Intel Chipset Feature Breakdown
Intel P45 Express Express
Intel P35 Express
CPU
LGA775 Core 2 Duo/Quad
LGA775 Core 2 Duo/Quad
Front Side Bus (FSB)
1600/1333/1066/800 MHz
1333/1066/800 MHz
Intel Fast Memory Access
Yes
Yes
Dual Channel Memory Support
DDR2 1066/800/667
DDR3 1333/1066/800
DDR2 1066/800/667
DDR3 1333(unofficial)/1066/800
Maximum Memory Capacity
8GB
8GB
Integrated Graphics
-
-
PCI Express x16
PCI Express 2.0 1x16, or 2x8
PCI Express 1x16
PCI Express x1
6
6
Intel Matrix Storage Technology
RAID 0,1,5,10
RAID 0,1,5,10
SATA/IDE HDD
6/0
6/0
SATA Speed
3Gb/s
3Gb/s
Southbridge
ICH10/R
ICH9/R
USB 2.0 Ports
12
12
PCI Masters
4
4
Audio
High Definition Audio
High Definition Audio
Parallel IDE has been dropped completely, so motherboard makers rely upon a stand alone IDE controller. Without this there would be no way to hook up a legacy DVD-ROM or HDD. Now that we covered all of that, it's time for some overclocking action!