Samsung has thrown in two remotes, the first a fairly standard 46-button mission control master button factory, the second hockey puck sized deal with only five buttons. It's designed for channel surfing and volume control alone - good for the kids or grandparents who may be intimidated by too much control.


The 46-button remote works with any Anynet+ peripherals, including Blu-ray players and home theatre systems. It uses the TM98B standard.
The main remote control bundled with the Samsung LN52A850S1F television works from distances up to about 25 feet away and is compatible with all other Samsung Anynet+ displays, DVD players and so on. It's nice that one remote can basically be used to control all your home theatre devices... provided you're fully outfitted with Samsung hardware. The black remote fits comfortably in adult-sized hands, with large, rubbery buttons that are easy to depress and spring back nicely afterwards. These buttons can also be illuminated for use in dark rooms and during movies.
The scroll wheel/directional pad design has returned and the wheel still makes navigating through the menus more difficult than it should be, but fortunately it no longer impedes simply using the directional-pad to select menu items. The remote itself has the standard channel-surfing, volume and source selection buttons you'd expect to find on a TV remote, but there's also a series of buttons to control the LN52A850S1F LCD HDTV's special features, like InfoLink, Content and WiseLink features.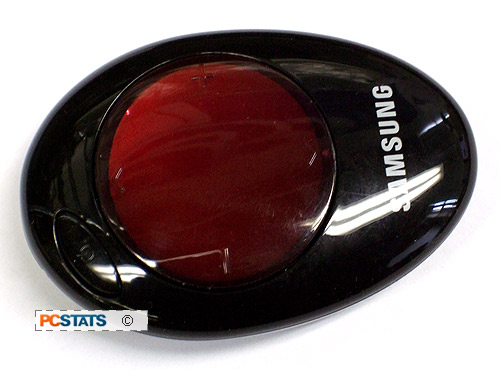 For other Samsung devices that support the Anylink+ feature, like Blu-ray players, there are basic forward, backwards, pause and play buttons. These aren't quite the equivalent of having a dedicated remote for these functions, as the remote didn't have buttons to skip chapters on the Samsung Blu-ray player we were using. The second remote is much more simple, in fact it only has five buttons, and is designed for basic channel surfing. Aside from the power switch that turns the TV on and off, the secondary remote has channel up and down buttons and left and right buttons. It's convenient and fits into the palm nicely.
Let's move in for a closer look at the range of media inputs on this 52" Samsung A850 LCD HDTV...