Abstract: There's much to get excited about with Samsung's 52" LN52A850S1F LCD HDTV, commonly known as the 'A850'. For starters this LCD HDTV ups the ante with the ability to play movies/music/pictures directly from a USB mass storage device or over a home network connection.


88% Rating:

Home > Reviews > Home Theatre > Samsung LN52A850S1F
On Screen Display Menus
Samsung's 850-series has several built in multimedia features that may or may not interest anyone. For the sake of completeness PCSTATS will cover them, but if you're ADD just skip to the next section where we discuss visual and acoustic playback. The Samsung LN52A850S1F LCD HDTV has a menu system that's accessed as an on-screen overlay, displaying menu options on top of whatever's playing in the background. The menus do everything you'd expect, and bring all of the functions of the TV together in one list.

It's possible to adjust the picture quality, audio settings, channel and antenna settings, inputs, launch some of the embedded applications like WiseLink Pro and InfoLink, as well as adjust the LN52A850S1F's internal settings, like the internal clock.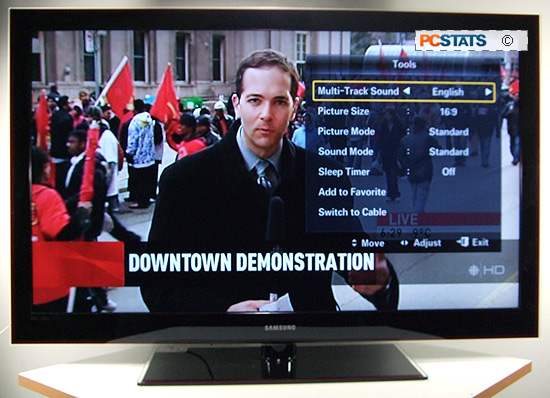 The on screen menu appears as an overlay on top of regular programming, so it's possible to continue watching TV while browsing through channel listings.
The OSD menus are in step with the TV's physical appearance, with a black and red colour scheme that's legible. However the problem still remains that the menus are annoyingly slow, and don't animate quickly enough to keep up with quick-fingered user input. I found scrolling through the menus using the remote a frustrating experience, especially when trying to tweak options buried in sub-menus.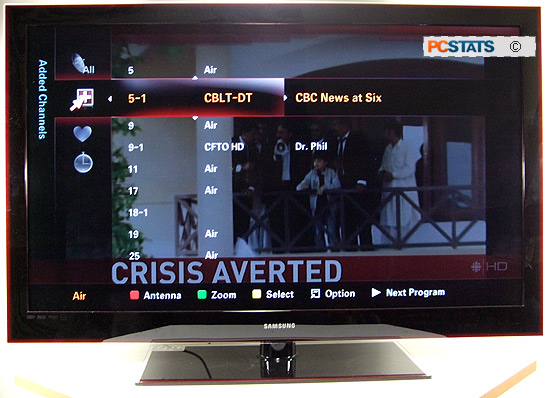 On-Screen Menus and Settings
Input:
The input menu allows you to scroll through the various input options and also customize their names. So you could call composite 1, 2 and 3 'HDTV,' 'spare' and 'DVD' if you'd like.

When selecting inputs, only ones that are actually connected are highlighted and available, which is handy.

Sound:
The sound menu contains sound presets (standard, music, movie and speech) and custom sound options for bass treble and balance. Also included are toggles for the BBE sound processing, MTS and virtual Dolby surround sound effects as well as an auto-volume adjustment feature which compensates for louder or fainter audio signals between channels.

Picture:
The picture menu, as its name suggests, controls the properties of the display. From here you can choose one of the three preset picture modes: movie, game or sports, or custom to edit the display properties yourself.

Also available in this menu are colour tone options, screen size and PIP controls (which are also on the remote) and the toggles for Auto Motion Plus, which boosts the refresh rate of the picture up to 120Hz.

Setup:
The setup menu is a grab bag of options including closed caption controls, V-chip controls, time, menu language, network and PC setup controls. The latter allow you to adjust the display to cope with any video noise introduced by a PC connection. The menus are available in English, Spanish or French.

Channels:
Contains options for tuner and cable channel handling, including detection, fine-tuning, favorites, labeling channels, etc.
Now that we have everything plugged in and the TV set up properly, sit back and let us judge this screen's visual qualities for you. Is the picture any good?