The Samsung LN52A850S1F has got a lot of connections, analog and digital. The inputs are grouped at the back and along one side of the screen where they are easy to reach. I've seen some widescreen display house all the media inputs at the back, dead center... nearly impossible to reach when the screen is 49" across. HDTVs are the hub for peripherals like Bu-ray players, VHS decks, digital cameras / camcorders, game consoles and occasionally pull double duty as computer displays. The hallmark of a good HDTV is a variety of connections that will work with all of your home electronics - old and new. Inputs on the Samsung LN52A850S1F 52" LCD TV are numerous. You can connect a broad variety of devices (new and legacy) to the screen.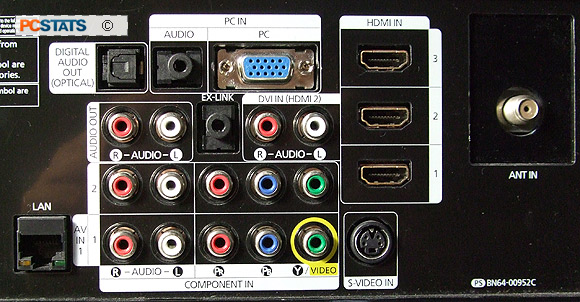 On the back we find (1) coaxial antenna connector, (3) HDMI inputs, two sets of Component Input (Y, Pb, Pr) with L/R audio input, one 15-pin Analog VGA computer monitor cable hook up and associated mini-headphone jack for audio from a PC. There is but one S-video input, which you may as well avoid because s-video has horrible video quality. Finally, we find an additional L/R coaxial audio input associated with one of the HDMI inputs.
Outputs include one optical SP/DIF and one pair of RCA audio outputs. The RJ45 Ethernet LAN port is used to connect the 850-series screen for media stream (Wiselink Pro DLNA) and also to stream news stories, weather and stock information directly to the TV. Ex-link is for an optional motorized wall mount.


On the side panel we find a HDMI, USB, composite (RCA) video and L/R coaxial audio inputs and mini-headphone jack output
On the left hand side of the Samsung 850 is an auxiliary side panel full of commonly used connections. On it we find an HDMI input, a USB port that used for firmware updates or WiseLink Pro, and a legacy inputs for composite video/audio. There is a single 3.5mm stereo headphone jack for private listening. The WiseLink Pro USB port is particularly interesting because you can play movies in a variety of formats directly from a USB drive on the A850's massive screen (we'll go over this in detail on the next page).
Altogether that adds up to four HDMI inputs, two component inputs, RCA and S-Video inputs, an ATSC/VHF RF antenna, a VGA input with an additional optical input, as well as LAN and Wiselink Pro USB connections. Unfortunately the LN52A850S1F lacks a DVI input, which means that most PC owners will need to use either a HDMI or VGA adapter to get the signal from a DVI-based video card onto their TV.