One of the most exciting features of Samsung A750 and A850 series televisions, like the LN52A850S1F being reviewed today, is Samsung's Wiselink Pro application. Wiselink Pro allows you to easily stream media content like movies, music and photos from a USB drive or PC directly to the HDTV over a home LAN. PCSTATS tested both Wiselink Pro configurations and this technology has some incredible potential for changing how you watch and access digital content.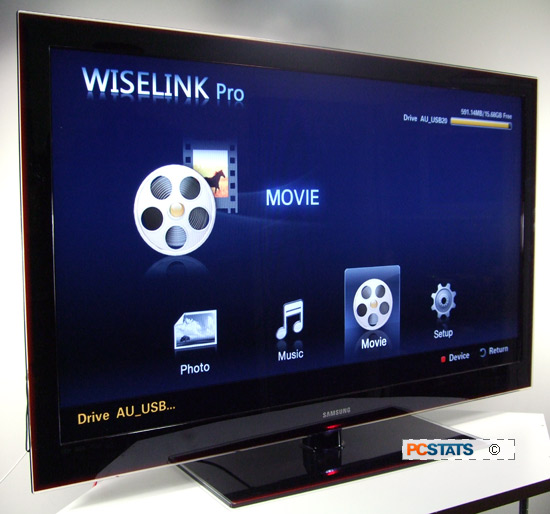 Running Wiselink Pro over USB is pretty easy to set up. Any FAT16 or FAT32 formatted USB memory drive is supported. That means USB thumb drives will generally work, but USB hard drive enclosures are not supported. The Wiselink Pro interface will automatically scan through the thumb drive's contents and generate its own database of compatible file types, and list the compatible Photo, Music or Movie types in the corresponding sub-menu. That means you only have to scroll through the menu to find what you want, incompatible formats are omitted.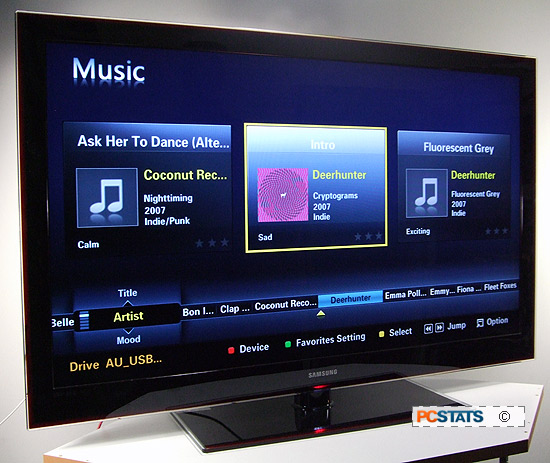 The music menu supports the MP3 file type only, which can be a little annoying for AAC, OGG and FLAC aficionados. The Music menu will automatically parse any metatags that are attached to scanned MP3 files, and lets you sort tracks in a variety of different ways. Here is a sample of the sorting options, pictured below. Both photo and movie menus have similar structures.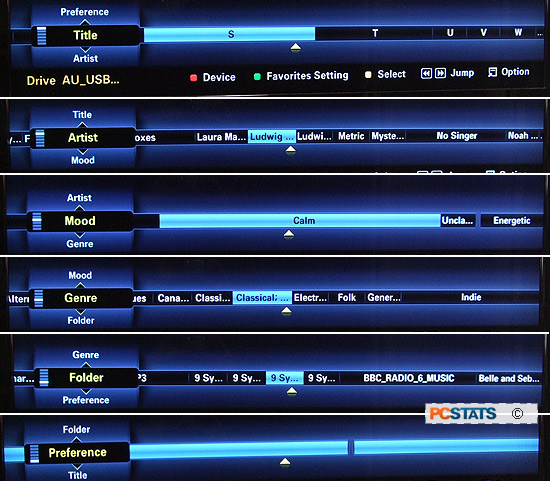 The default folder view can be switched to sort by Title, Artist, Mood, Genre, or Preference rating. To navigate the folder structure the remote's scroll wheel can be used to skip between sub-categories or to select individual tracks. It's also possible to create simple playlists that traverse multiple folders without much clicking by using the FastForward button.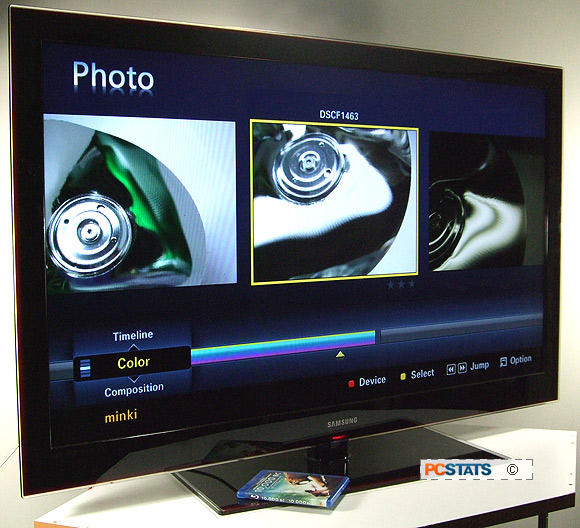 The photo menu supports JPEG images of resolutions up to 15360 x 8640 pixels. Photos are automatically downscaled to a maximum width of 1920 while preserving the aspect ratio. Photos can be sorted according to Color, Composition, Timeline, Folder and Preference (a user rating system of 1-3 stars). It's also possible to create a slideshow by selecting photos from various folders.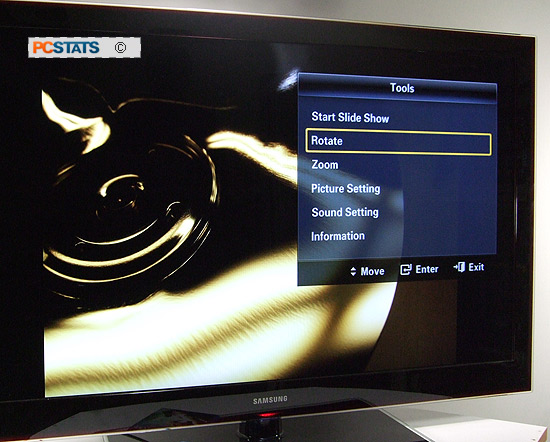 The photo menu also lets you zoom in and rotate JPEG images, although for larger images both of these features were a little slow. Since the LN52A850S1F automatically scales the image to a maxmium of 1920x1080 resolution, it's generally a good idea to rotate and resize your images on your PC first, before displaying them on the TV.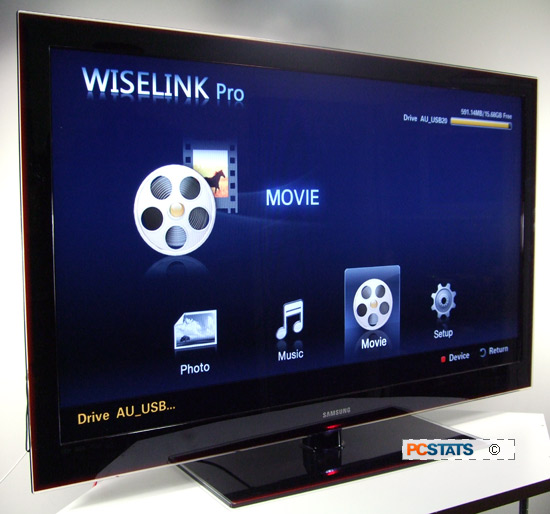 The most important function by far is the Movie menu. In Wiselink Pro USB mode, this allows you to to play video directly from a USB flash memory key to the screen, provided the content is stored in one of the following video formats.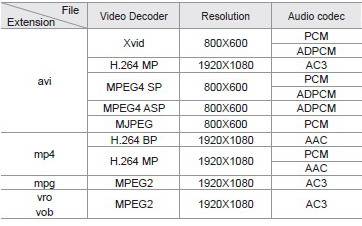 PCSTATS tested Wiselink Pro with several movies in a variety of formats including MP4 video, AVI and a High Definition H.264 encoded version of the Bourne Ultimatum trailer in 1080p. Each movie played back off the USB drive without any noticeable hitches, distortion or syncing issues. In Wiselink Pro USB mode it's possible to play, pause or fast forward at 2x speeds, but you cannot rewind or skip ahead for some reason.
The only point you really have to watch out for is making sure the video files are properly formatted before playing them through Wiselink Pro USB or Wiselink Pro DLNA. Corrupted or improperly formatted videos can cause the Wiselink Pro application to hang, and if that happens it may crash the TV so to speak. At that point you may need to unplug the screen to reset everything back to normal and regain control of it via remote.
Samsung should have a more graceful solution to deal with those inevitable encounters with incompatible media.