In addition to the Wiselink Pro application, Samsung has an embedded Content Library that allows the LN52A850S1F to run a few simple applications through its firmware. These application include a photo gallery that can show stock photography or scans of classical paintings, a small recipe book which can be useful if the HDTV is places within viewing distance of the kitchen, a couple of games, karaoke songs and storybooks for children and some exercise and massage tips.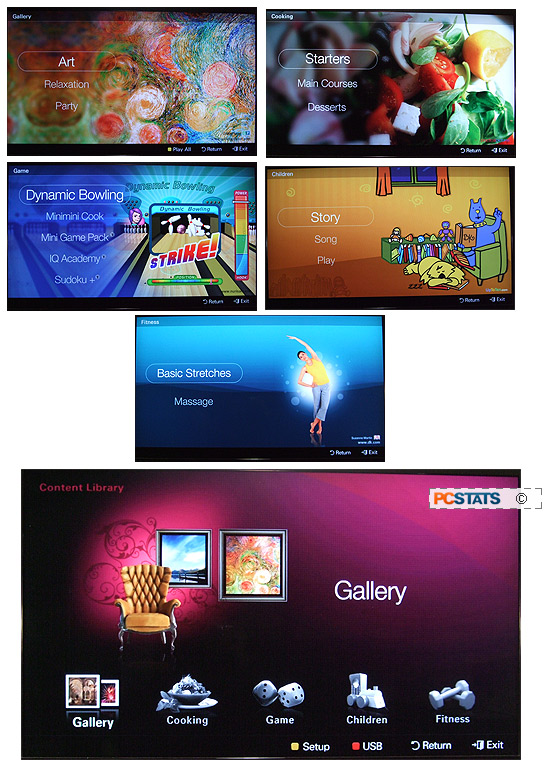 The Content Library has a number of games, recipes, exercises and music/photo slide shows available that are built into the HDTV's firmware.
The built-in Conten Gallery mode displays fine-art paintings built in, while a game mode offers simple entertainment. A children's section has stories and songs, while the cooking mode contains some recipes. The fitness mode has basic calisthenic, reflexology and massage guides that would be good for a weary traveler in a far off hotel.
Listening Experience
The Samsung LN52A850S1F has a pair of integrated 10W speakers that are identical to those of the LN40A650A1F, so they still provide decent sound for regular television viewing. While it's obviously not going to compare to house-rumbling 7.1 channel home theatre systems that have 1000W RMS ratings, it can provide sound output that's comparable to a good set of computer desktop speakers. Several LCD TV manufacturers have started omitting speakers from their displays, which means that there are more components to purchase before your TV can actually be used.
To have a pair that actually produces decent sound at comfortable volume levels is a big plus. PCSTATS tested the Samsung LN52A850's speakers with some ATSC TV broadcasts, and it was more than adequate. In movies the 10W speakers struggled a little with extreme bass from explosions, and orchestral scores sounded a little tinny when it should have been booming, but was otherwise fine and didn't detract overly from the listening experience.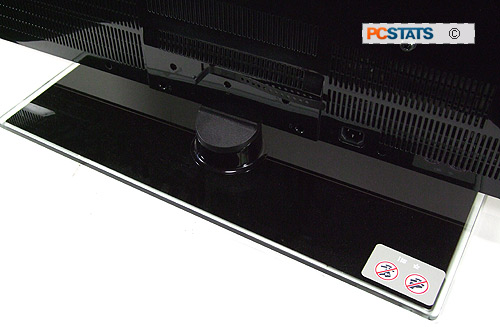 Samsung's LN52A850S1F stand can be pivoted up to 30 degrees so that the side and back panel connections can be reached without having to move the TV's stand.
These speakers also support SRS TruSurround XT, which is a virtual surround sound system that gives the effect of a 5.1 channel surround system even when there are only two speakers in use. This didn't work particularly well with the Samsung LN52A850's built in speakers, muffling the high and mid channels which made it more difficult to hear spoken dialog, and turning up the bass so that footsteps sounded more like timpani drums.
The sound certainly didn't sound like it was coming from anywhere else but the two speakers in the front of the TV, so it might be a good idea to skip virtual surround sound unless you're using a pair of larger, external stereo speakers instead of the on-board ones. So how does this all come together? Find out if the Samsung is worth taking home or just another HDTV in a crowded market on the next page...
Conclusions: Thin and Bright, the best LCD Ever?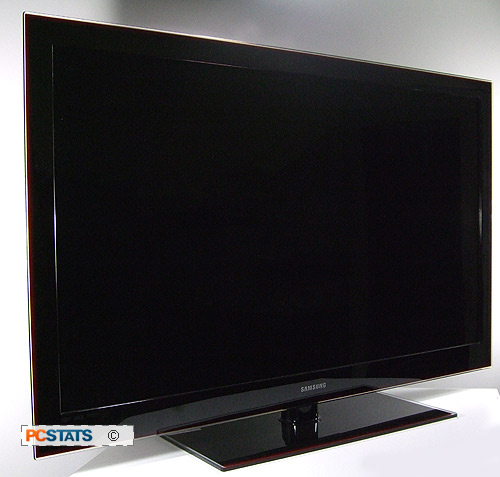 It's big. It's beautiful. It's expensive, although that's largely dependent on your point of view.
When high-definition LCD televisions first started hitting the market years ago they were less than half the size and more than twice the $3010 CDN ($2340 USD, £1660 GBP) asking price of the Samsung LN52A850S1F LCD HDTV.
The killer feature for the 52" Samsung LN52A850S1F LCD is Wiselink Pro, which allows it to display JPEG files, play MP3s and play back video content over USB or Ethernet connections. This makes it far easier to get digital content from your home PC into a home theatre than ever before. Not being constrained to a six foot length of HDMI cable for high-definition playback grants a lot of versatility to how you set up your home theatre system.
Wiselink Pro still has a few rough edges in terms of media compatibility, playback options and stability, although there are work-around to most of these problems. Those that decide to take the plunge will be pleased to note that when compared to other LCD TV's that are around the same size and have similar statistics, the Samsung LN52A850's price is actually a bit lower than average. It's also got excellent picture quality that lives up to Samsung's reputation for having some of the best image fidelity in the HDTV market.
Samsung's LN52A850S1F is a very versatile LCD HDTV, due in large part to the number of connections and inputs it has. Four HDMI inputs, two composite inputs, as well as VGA, component and s-video inputs mean that this display can work with today's and yesterday's video devices.
Physically, the display is beautiful to look at, with an incredible 2" thin profile, and a minimalist design that puts the eyes attention where it should be: on the surface of the 52" LCD. Samsung's dark cherry finish also makes the 850-series LN52A850S1F stand out from the crowd, while not seeming overly gaudy. Once proper HD sources are connected, viewing Blu-ray movies and playing games on Samsung's 52" HDTV was a real treat. While the size itself simply makes viewing more immersed, we also have to praise the excellent viewing angles, bright display and high contrast display.
Of course, there's still some room for improvement, in particular with the Samsung LN52A850's firmware-based applications and menu system. It's simply too slow, and having menu lag on a TV with this many different controls and inputs is a fly in a very fine ointment. As it is though, most people who are buying a $3000, 52" LCD HDTV will likely care more about its looks and display quality, as well as its incredible versatility as a media centre, computer monitor, receiver and High Definition television. In this arena the Samsung LN52A850S1F is difficult to beat, and anyone looking to pick up a new big screen TV and has the cash to spend should definitely put the Samsung A850 52" LCD HDTV on their short list!
Find out about this and many other reviews by joining the Weekly PCstats.com Newsletter today! Catch all of PCSTATS latest reviews right here.
Related Article
Here are a few other articles that you might enjoy as well...
- Samsung LN40A650A 40-inch LCD HDTV Review
- Samsung HLN617W 61-inch DLP Television Review
- Samsung LTM405W Tantus 40" LCD Television Review
- Samsung SPL4225 Tantus 42 inch Plasma Display Review
- Samsung DVD-L100 Portable DVD Player Review
- Samsung Tantus HCL473W 47" Rear Projection HDTV
- Samsung DVD-P401 DVD Player Review
- Samsung DVD-N501 DVD Player Review
- Samsung SV-7000W World VCR
- Amacom Baby DVD Drive