How does watching video on a 52" LCD HDTV display compare to watching it on a 40" display? Well for starters, it's important to remember just how much more screen that extra 12" diagonal actually translates into: the Samsung LN52A850S1F is 1170 square inches to the LN40A650A1F's 682 square inches, making the new TV 58% larger than its little brother.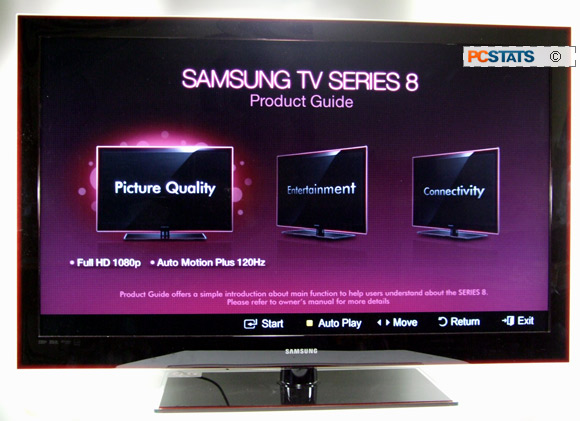 When playing back Blu-ray movies, this Samsung A850-series display looked superb. High-definition movies showed off the fine details that would have been lost on smaller televisions. The colour saturation and overall dynamic contrast range of the screen made for a very vivid viewing experience, with deep blacks and rich tones that really showed off Samsung's ability to make LCD displays. Watching HDTV signals was similarly impressive, with over the air ATSC broadcasts looking crisp and clear on the 52" screen.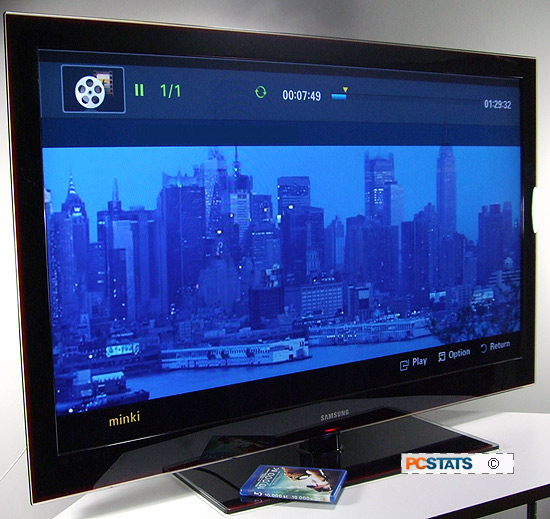 Playing Crysis on the 52" Samsung display at 1080p resolution feels like the game is rendered at life size. It's like being 'in the game'!
The 52" LCD screen makes it easier to do computer tasks like surfing the web. Regular size text was clearly visible on the LN52A850S1F from about ten feet away, and didn't require any resizing or rescaling in order to display correctly. Since both displays have resolutions of 1920 x 1080 pixels, the 52" Samsung display necessarily has to have a higher dot pitch than the 40", but in practice both are still more than fine enough that the eye can't tell the difference as long as the viewer is comfortable distance (four or more feet) away from the television.
With LCD viewing angles set at 178/178 degrees, looking at the display from extreme angles and viewpoints didn't affect brightness or cause any kind of colour polarization, so putting this LCD high-definition television in a room that has couches or chairs that aren't directly facing the LN52A850S1F will still work well.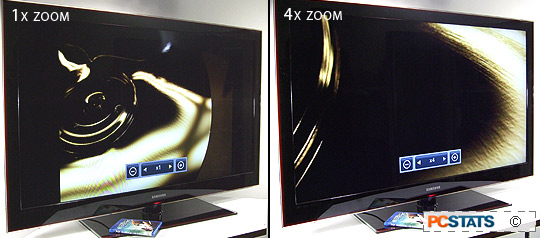 The PCSTATS offices get quite a bit of sunlight during the day, and with the sun shining into the room the TV still looked fine.
It's possible to use a couple of built-in screen profiles depending on what media is being played back on the LN52A850S1F. Scene modes include movie, game, and sports, but in practice game mode is too contrasted and tends to eliminate midtones, and sports mode tints everything with an unpleasant turquoise colour. For the most part the image quality is best in movie mode, which is good for high-contrast scenes, or just leaving the Samsung LN52A850S1F in default mode.
Does 120Hz 'Auto Motion Plus' Help or Hinder?
While HDTV broadcasts and media have a maximum quality of 1080p (which is to say, 1920 horizontal rows of pixels by 1080 vertical columns of pixels refreshed 60 times per second), the Samsung LN52A850S1F HDTV can take it a step further and perform motion interpolation, increasing the refresh rate to an effective 120Hz. Since this is a hardware-level implementation, the LN52A850S1F can even perform this interpolation on sources that are presented at lower refresh rates, smoothing them out. This feature can reduce the tearing effects in PC and console video games.
PCSTATS had time to take a closer look at Auto Motion Plus with the Samsung LN52A850S1F, which boasts an enhanced revision of Samsung's 120Hz motion tweening technology. Auto Motion Plus works by taking standard 60hz video signals and interpolating an additional frame in between them, smoothing them out and making certain scenes, in particular horizontal and vertical panning shots, appear more fluid. Opinion was a little divided in the PCSTATS office as to whether Auto Motion Plus was actually making film look better. On the one hand watching certain scenes of 10,000 BC were definitely easier to follow, in particular a vertical panning sequence that takes place on snow-covered mountains.
Auto Motion Plus uses an algorithm to interpolate frames that were never captured on the original source, so certain combinations of shapes and motion can cause glitching and graphical anomalies that definitely detract from the viewing experience. This is most apparent in panning shots where an object is moving in a direction that's opposite to the camerea's panning motion, and severe tearing can be seen around the edges of the object.