The other half of the Wiselink Pro application is Digital Life Networking Alliance (DLNA), which allows the Samsung LN52A850S1F to stream media content from a computer connected on a home network. This feature takes advantage of the LCD HDTV's built-in Ethernet jack. While Samsung does offer a wireless adapter for Infolink service, Wiselink DLNA will not work over this adaptor. You can connect the A850-series screen to a 802.11G 52Mbps wireless access point (via Ethernet cable, not a USB wireless adaptor), but that can get a little complicated.
How to Setup Wiselink Pro DLNA
PCSTATS encountered a bit of a struggle getting Wiselink Pro DLNA working on the Samsung LN52A850S1F HDTV... but after a few attempts and a little Google searching everything was quickly sorted and in good working order.
To save some time for the rest of you, here's how we got the system working perfectly. The first thing to remember is that Wiselink Pro requires a home network to be connected to the rear-panel RJ45 Ethernet jack. This is the same jack that's used for the Infolink news feed service. Once the LN52A850S1F has a wired Ethernet connection, access the TV's network menu to configure the proper network settings.
Got to: Menu > Setup > Cable Network Setup.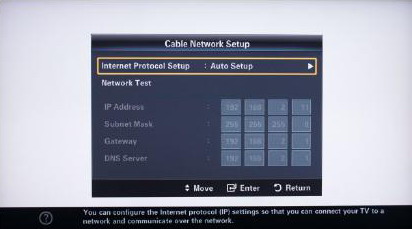 In most situations the Automatic Configuration tool will properly detect the network settings. Run the network test to make sure everything is connected properly. If it doesn't key in the appropriate IP address, Subnet mask, Gateway and DNS server details and then run the network test again. If it doesn't, you'll need to input all the network details manually, based on your existing network setup.
Once the Samsung HDTV is connected to your home network, you'll need to install the Media Server Software on the PC which will contain all the media to be served. It's PC Share Manager, it runs on Windows XP Service Pack 2 or Windows Vista and doesn't require a fast computer at all. Any old (somewhat recent) clunker with a large hard drive should do fine, or you can always use your main PC system.
Since the PC Share Manager software included with the TV is likely out of date, it's important to download the latest version from Samsung directly (PC Share Manager 1.4.3 at the time of this writing). The software included with the screen PCSTATS tested did not work, so download the latest version of PC Share Manager from the start and use that. Once the software is installed on the computer, the PC Share Manager will look something like this: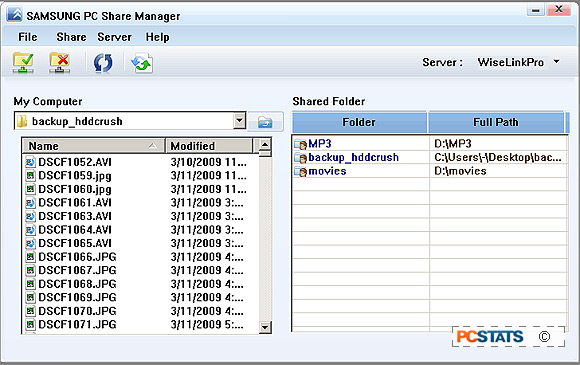 Before you see content on the HDTV you'll need to explicitly add folders to share to the PC Share Manager application. Do this by dragging compatible media into the PC's shared folder, or setting up one local folder and sharing it (right click > share folder). After that you need to refresh the database PC Share Manager maintains by going to Share > Refresh DB.
Updating the applications shared media database can take a little while depending on the amount of files. There is no problem configuring multiple computers on the same network to serve media as DLNA servers, just give them different names so you can choose between the different media servers on the TV interface.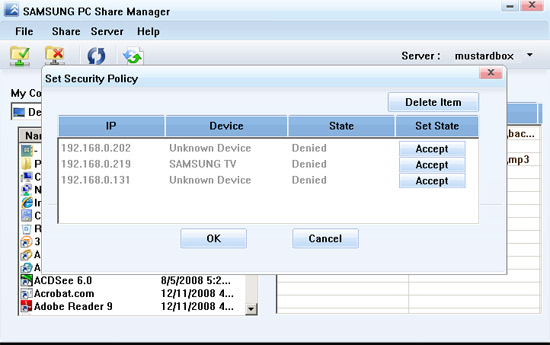 Once you have shared folders on your media serving PC and refreshed the database of this content, you need to explicitly allow the Samsung 850-series TV to access the software's archive of media content. Go to Share > Device Policy and find your Samsung TV on the network, click Accept to allow it to connect.
You may also need to make a firewall exception on the PC or router level, depending on your specific setup. If everything works, the media server will show up in the list of inputs on the Samsung 850-series HDTV under DLNA - "media server name". From there all that's left to do is to make sure that the Samsung LN52A850S1F is connected to the right source, which you can check by accessing the Wiselink Pro menu, or the DLNA input by pressing the Source key on the remote.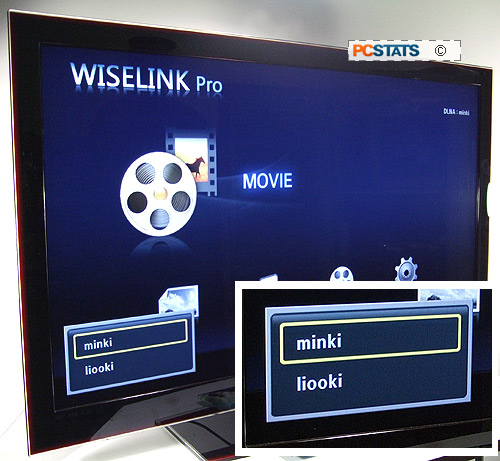 Pretty easy! If you're still running into problems with Wiselink Pro DLNA, consult Samsung's revised guide to setting up DLNA and PC Share manager on your network. The documentation that ships with the Samsung A850-series is pretty sparse.
Much like the Wiselink Pro USB feature, Wiselink Pro DLNA will automatically sort photos, music and movies into their appropriate directories. It uses the same system for navigating and choosing movie and menus. It is important to note that Wiselink Pro DLNA cannot stream exactly the same media over a network as it can play from a USB drive plugged into the side of the screen. Not every video format that's compatible with Wiselink Pro USB will work in DLNA Ethernet mode.
Samsung lists the official support as follows: Music – MP3 , Photos – JPEG, Video – MPEG1 , MPEG2 , DIVX (.mpg, .mpeg, .avi), MPEG4 AVC. There is a good unofficial blog here with more information on specific video codec support, as well as tips to using the Samsung A850-series with other DLNA-compatible servers like Twonky, TVersity, Eyeconnect and Fuppes.
PCSTATS' take on Wiselink Pro
Wiselink Pro is so close to making us reconsider our stance on HTPCs. Between using DLNA to turn a home PC and having a USB port for playing local content, Wiselink Pro can replicate a lot of the functionality that makes enthusiasts turn to HTPCs in the first place. Being able to play compressed movie files (compatible formats) taken from DVDs that you ripped or from files off your camcorder in the home theatre space has always been more complicated than it should be. Wiselink Pro has been the most elegant solution we've seen so far, and it can free you from the 6' limitation of the HDMI cable.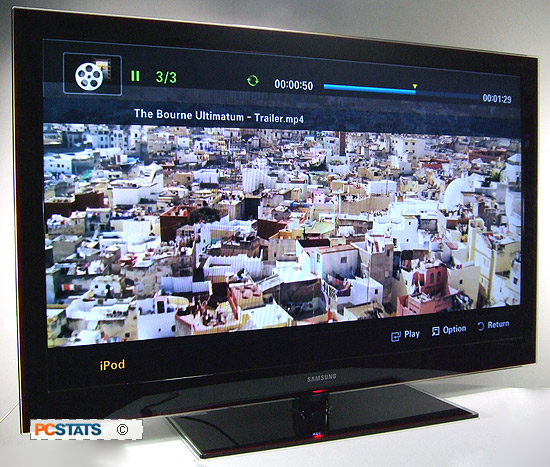 Playback on both standard and high-definition movies was flawless, and since the Samsung LN52A850S1F was doing all the decoding on its end, streaming files over Wiselink Pro DLNA worked even on a computer that was much too slow and much to old to decode HD video on its own. With that being said, you may not want to chuck your HTPC in the garbage just yet.
Wiselink Pro is built into the Samsung LN52A850S1F's firmware, so updating it to work with new video codecs may not be possible. Many HD videos are now encoded using the popular Matroska Video codec, and having to re-encode them to work under Wiselink Pro is a time consuming process. The Wiselink Pro firmware is also missing a few critical features when content is streamed over DLNA, like the ability to skip forward and backwards in video. While the Wiselink Pro USB movie playback supports fast forward, Wiselink Pro DLNA does not, so be prepared to watch video files all the way through, every time.
Next up, PCSTATS thoughts and analysis on the picture and sound from the 850-series Samsung LN52A850S1F...