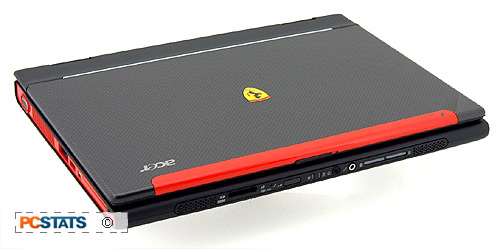 As you would expect from a high-end laptop with a powerful processor, Windows XP runs well on the Acer Ferrari 4005 WLMi. Applications load quickly and the 64-bit capable AMD Turion 64 mobile processor seems to handle multi-tasking well.
Game play is also rewarding, as the large LCD and decent speakers combined with the powerful processor and videocard make for a great combination.
The onboard ATI Radeon X700 certainly kicks butt compared to Intel's current integrated video solution. The screen showed some of the typical LCD 'tearing' tendencies when presented with quickly moving 3D scenes, but this has been a characteristic of almost every LCD monitor and laptop we've ever tested, so it didn't strike us as odd.
Watching DVDs was a pleasure, as you might expect with this portable's wide aspect screen. The sound was also good on headphones, and even decent on the internal speakers.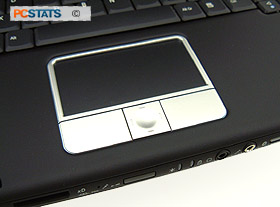 The wireless networking and Bluetooth internal adaptors are both enabled by the switches on the front of the unit, though if the adaptors are disabled within Windows, the switches cannot re-enable them. The WiFi button lights up orange and flashing when wireless is enabled but not connected and straight orange when connected. In our testing, wireless range was more than adequate.
Audio and brightness controls are available on the keyboard via a function key. Other 'function activated' alternate keys include a numlock and numeric keypad. As you might expect, the Acer Ferrari 4005 WLMi runs quite hot, though in normal desktop mode the AMD PowerNow! technology helps keep the speed of the processor (and thus heat) down to a minimum where possible. This is not a notebook you'd want to have on your lap for a long period of time, but it's not going to burn you either.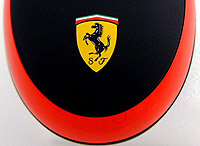 The slot loading DVD player was slightly noisy when reading disks, and occasionally failed to autorun CDs in a timely manner, but overall its performance was satisfactory. Sliding disks into the drive on the side of the laptop has a satisfying feel to it, especially when they are grabbed out of your hand and into the drive with an audible *clunk*.
Acer includes few software utilities and extras with the Ferrari 4005 WLMi, the only ones installed being help files and the handy 'Gridvision' program which allows you to designate a grid on your desktop which will organize and lock open program windows.

Notebook Test Group

| | |
| --- | --- |
| acer ferrari 4005 wlmi: | amd turion 64 2.0ghz, 1gb, mobility radeon x700 128mb |
| gigabyte g-max n512: | intel pentium m 1.7ghz, 512mb, mobility radeon 9700 64mb |
| gigabyte g-max n203: | intel pentium m 1.6ghz, 256mb, intel extreme graphics 2 64mb |
| sony vaio vgn t-140p/l: | intel pentium m 1.1ghz, 512mb, intel extreme graphics 2 64mb |