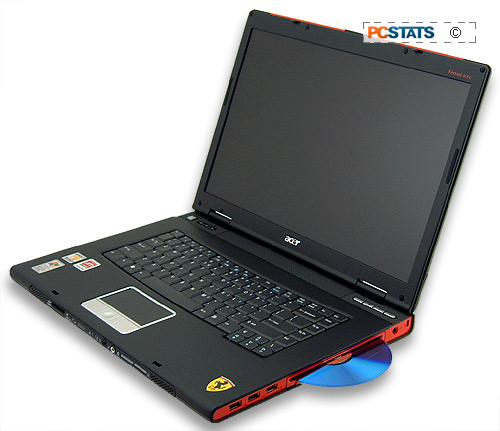 The Ferrari 4005 WLMi uses ATI's Radeon Xpress 200P chipset, which is actually intended for desktop Athlon 64 processors.
This recent ATI chipset supports Hypertransport (as it must to connect with AMD's 64-bit processors), DDR-3200 memory, PCI Express video and peripherals and SATA I. The Radeon Xpress 200P chipset supports both dual and single-channel memory configurations, but in the case of this laptop only single channel is available.
The ATI Radeon Mobility X700 is ATI's top mobile graphics processor, and with 128MB of memory, it should have plenty of grunt for demanding games like Doom3 and Half-Life 2. The Radeon Mobility X700 is based on ATI's X700 desktop graphics processor, and should have somewhat equivalent performance. The 15.4" wide screen LCD has a huge native resolution of 1680 x 1050 (WSXGA+).
The Acer Ferrari 4005 WLMi's battery is a 71W Lithium-Ion pack that slots into the rear of the laptop. It's rated at 14.8V and 4800mAh.
The Acer Ferrari 4005 WLMi features several connection options besides the aforementioned network adaptors. A 5-in-1 memory card reader handles SD and XD cards, Memory Stick, Memory Stick Pro and MMC formats, though sadly not Compact Flash or Smartmedia.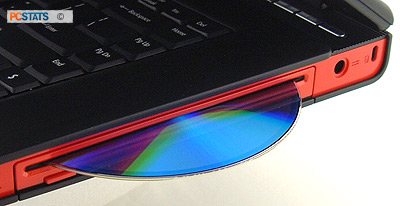 Four USB 2.0 ports and an IEEE 1394 connector allow for external peripherals to be hooked up, and VGA and S-video connectors handle monitor-out and TV-out duties respectively.
Audio is provided by the ubiquitous AC'97 audio codec, though Acer have added SPDIF support to the front audio jack for driving digital speakers. Dual front dash speakers provide on-board sound.
The Acer Ferrari 4005 WLMi is a two-spindle notebook with a 5400RPM 100GB hard disk and an 8x Panasonic slot loading super-multi dual-layer DVD burner. The addition of dual-layer burning capability is a nice touch and should endear this notebook to multimedia enthusiasts.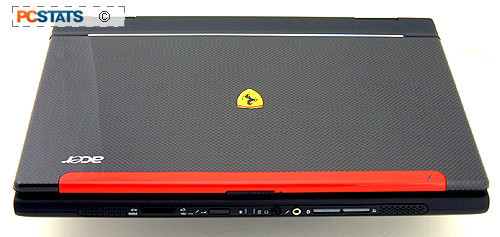 One thing confused us about the Acer Ferrari 4005 WLMi: It's using a 64-bit AMD Turion mobile processor that can support DDR-400 memory and a chipset (ATI Xpress 200P) that is capable of supporting DDR-400 memory, yet the notebook ships with PC-2700 DDR-333 memory instead. Combined with the single-channel only configuration of the motherboard, we can't help but think that this will drag down system performance unnecessarily. There may be an incompatibility we are not aware of here, but it seems obvious that adding DDR-400 memory would increase overall system performance in this case.