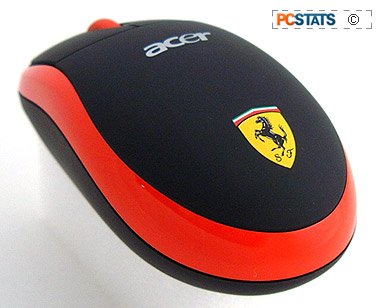 Acer bundles a few extra goodies with the Ferrari 4005 WLMi, as you might hope given the price. The most notable addition is the Bluetooth wireless mouse. This Acer and Ferrari branded rodent matches the colour scheme of the laptop and comes with a set of rechargeable AA batteries as well as a USB charging cable.
The mouse has the same soft rubbery feel to it that the rest of the notebook shares. We might have liked to see a smaller mouse than this full-sized one, but the Ferrari 4005 WLMi is more of a desktop replacement than a road warrior, so this is forgivable.
The rest of the bundle is more prosaic and includes a set of three system restore CDs, a copy of Norton AntiVirus 2005, manual, quick start guide, warranty and international warranty, power adaptor, phone cable and Windows XP Professional license. As is sadly typical with modern 'big-box' computers, no original Windows XP CD is present. The OS is part of the set of system restore disks. Remember to burn a set of backup CD's first thing!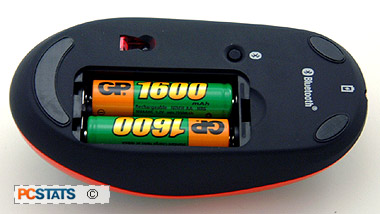 The Acer Ferrari 4005 WLMi comes with a one year limited international warranty that as far as we are aware covers all components, including the battery.
Upgradeability
The Acer Ferrari 4005 WLMi can be upgraded to a maximum of 2GB of DDR memory. Unfortunately, both RAM slots on our test model were occupied by 512MB DDR SO-DIMMs, meaning that upgrading would be an expensive proposition. I'm assuming that the relative rarity and high price of 1GB SO-DIMM memory modules is to blame for this, but it still seems like an unfortunate decision in such an expensive laptop.

The hard disk is easy to access and could be removed and replaced if desired. This means that hard drive repairs should be simple to achieve after the warranty expires, which is good to know. There are no other user-serviceable parts on the Acer Ferrari 4005 WLMi.