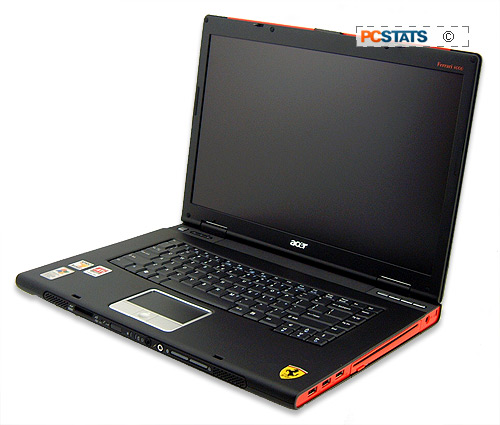 There's no denying that the Acer Ferrari 4005 WLMi is an eye-catching laptop. Ferrari fans will lust after this carbon-fiber topped beauty, while those who are not Formula 1 fanatics may wonder what the fuss is about.
Whatever you think of the decoration though, Acer's designers did a good job building this machine.
The 64-bit AMD Turion64 ML-37 processor proved a little less powerful than we had hoped, given the prowess of the Athlon64, but it was more than capable of crunching through our gaming and software benchmarks. It also compared favorably to the slightly slower Pentium M processors we tested it against.
It's just that we were hoping for close to desktop Athlon 64 performance, and the Turion64 doesn't have that... I'd imagine this is mainly due to the single channel interface and lower bandwidth of the ATI Xpress 200P chipset and Acer's odd choice of using DDR-333 instead of DDR-400 memory.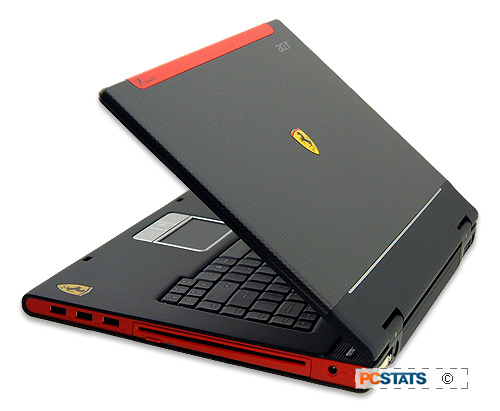 The Acer Ferrari 4005 WLMi is best suited as a portable desktop replacement machine, given its 6.3lb weight.
It's a little too big and heavy for a true road warrior PC, and the battery will not stand up to long trips, but its admirable game playing and multimedia capabilities coupled with its powerful mobile processor make it a great choice for a coffee table near you.
This Ferrari will set you back about $2400CDN ($1950USD) at a showroom near you, but I think it's safe to expect that it is priced a little above what you'd expect from its feature set.
The price premium takes Ferrari branding into account, and that swift little carbon fiber panel on back of the 15.4" LCD. If you want a unique notebook that you can play games on, with a full compliment of wireless technologies, the Acer Ferrari 4005 WLMi certainly delivers sharp looks along with its solid performance.
Find out about this and many other reviews by joining the Weekly PCstats.com Newsletter today! Catch all of PCstats latest hardware reviews right here.
Related Articles
Here are a few other articles that you might also enjoy...
Gigabyte G-Max N203 Notebook Review
Gigabyte G-MAX N512 Centrino Laptop Review
NEC Versa UltraLite - Extensive Review
HP Pavilion N5150 Notebook Review
FIC Aqua 3400 Revisited
Acer 512T Laptop Review