One of the most notable features of the Acer Ferrari 4005 WLMi is the gorgeous WSXGA+ resolution widescreen LCD screen. Text was predicably small given the high resolution, but extremely crisp and legible, especially with ClearType enabled (it was not enabled by default). Viewing angles are strong though the LCD does lose brightness quickly when viewed from more than 45 degrees off-centre. Brightness is also very good, rendering clear and appealing images.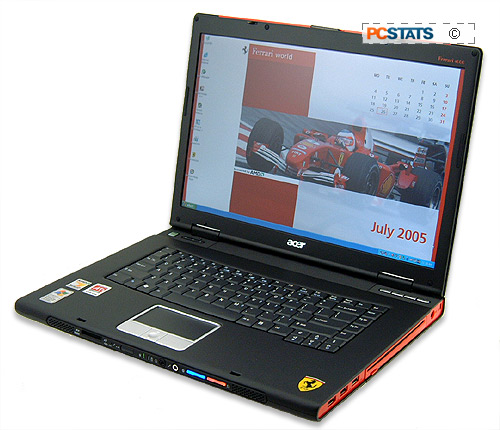 The Acer Ferrari 4005 WLMi makes use of a rubberized plastic coating over its frame, so that the black surfaces have a soft rubbery/leather feel about them. The keyboard is swooped in a pleasing curve, a nice throw back to the curves its little red namesake, and much nicer than just a boring old large rectangular keyboard.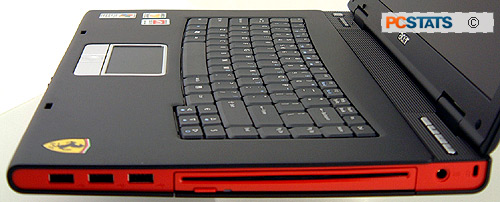 A touch sensitive pad is the means of controlling the mouse, and the top of the keyboard is flanked by a series of function keys for audio and power controls. The power button is tucked away into the upper left corner, and glows a nice vibrant green when the laptop is on. Even while sitting on a desk, the Acer Ferrari 4005 WLMi just looks fast... when it boots to life it even greats the user with the sound of an F1 car racing by!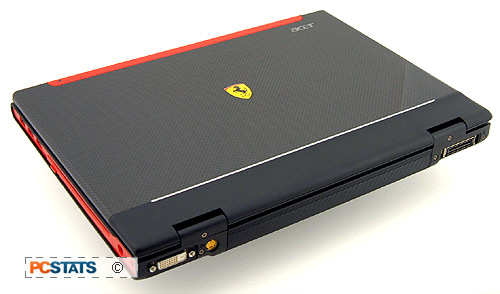 The top of the laptop features a real carbon fiber panel with the Ferrari logo embedded squarely in the center. The single Ferrari-red plastic stripe at the front of the Acer Ferrari 4005 WLMi sets off the carbon fiber nicely, making the whole package very easy on the eyes.