The Acer Ferrari 4005 WLMi certainly looks fast out of the box. The black sparkly carbon fiber top and blood red stripe make for a striking first impression, and the whole laptop has a reassuringly solid heft to it. It is hefty though (6.3lbs). This is no lightweight traveller. It'll be bearable in a notebook bag, but much better on your coffee table.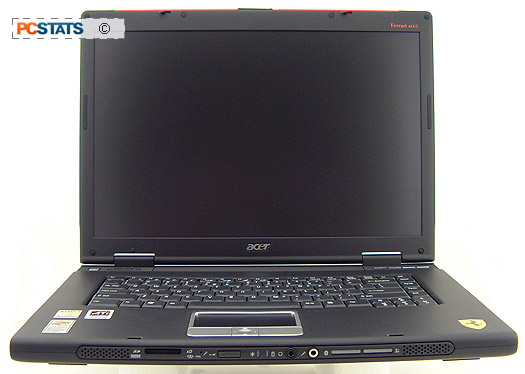 The positive impressions continue when you fold back the 15.4" LCD screen of the Ferrari 4005 WLMi. While there are no fancy decorative touches inside besides the Ferrari logo, the screen is huge, the layout is sensible and the hinges are reassuringly solid and smooth. The rubberized finish of the typing surface is warm and comfortable to the touch, making using the Ferrari 4005 WLMi quite inviting.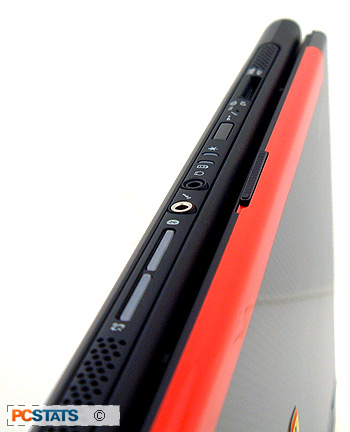 The keyboard is laid out with a slight arch, the far keys at each end bending away from the user. This has the effect of spacing the keys a little more, making typing that much easier.
We found ourselves wishing that the keyboard was a little more pitched towards us though, as the almost completely flat pitch of the keys made typing slightly difficult at first.
Turning the Ferrari 4005 WLMi on gets you a loading screen of Michael Shumacher's F1 car in full zoom, which is better than a POST screen in our opinion.
Predictably, the default Windows XP 'welcome' sound has been replaced by the sound of the same car zooming by, which at the default system volume is enough to make everyone in your office look at you strangely.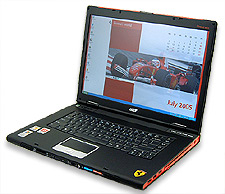 The Ferrari theme extends to the desktop, with a somewhat messy looking backdrop and integrated calendar. Large fonts are used, which makes the 1680x1050 resolution more comfortable to those with less than perfect vision at the cost of some crispness.
Our preferences led us to enable ClearType and change to small fonts, resulting in breathtakingly clear and crisp (but teeny-tiny) text.
The 15.4" WSXGA+ screen is predictably great, with good brightness, great crispness and clarity and a wide viewing angle. This is all well and good, but what's fancy notebook without its fancy mouse!