A week after AMD introduced its socket AM2 processor line up, Shuttle introduces the XPC SN27P2 small formfactor barebones PC; a potentially perfect mixture of expandability, power, and quiet in a toaster-sized package.
The cutting edge Shuttle XPC SN27P2 is a fine example of the company's excellent history with SFF PCs - the elegantly designed system is easy to access, easy to install, and packs in the latest nVidia nForce 570 Ultra chipset technology.
The official hardware features of the Shuttle XPC SN27P2 are similar to most other SFF PC's, but care of a BTX-layout it can accommodate as many as three 3.5" hard drives, a 5.25" optical drive, and still operate quietly with plenty of room for a quick upgrade. Care of the nForce 570 Ultra chipset, the system can even be configured for RAID if you wish. Other technologies like nVidia Firstpacket, MediaShield, and nTune come part and parcel.
Fully installed, the Shuttle XPC SN27P2 has enough space for a dual slot PCI Express x16 videocards like the GeForce 7900GTX or Radeon X1900 XTX. Its active power factor correction 350W power supply is more than capable for this class of videocard, and power and data cables are pre-routed inside the case to reduce clutter, improving installation.
A proprietory cooling solution operates quietly, and is equipped with a Pulse Width Modulation (PWM) fan to reduced fan speed and noise as much as possible.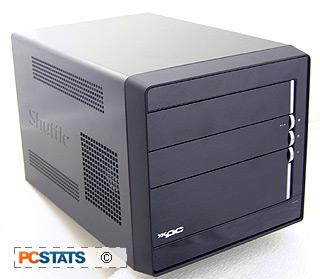 Looking at the benchmarks, it's clear that the Shuttle XPC SN27P2 and its nForce 570 Ultra chipset offer performance qualities on par with high end nForce 590 SLI based motherboards. In SYSMark2004, the office productivity tests and PCMark05 and content creation, the Shuttle XPC SN27P2 is in a virtual dead heat with an Asus M2N32-SLI Deluxe motherboard. That's pretty good company to be in.
On the whole there is very little to be critical about with the Shuttle XPC SN27P2, but that is not to say it is completely ideal. The rear cooling vents are poorly thought out, and an extra Gigabit ethernet jack probably should have been added to take full advantage of the nForce 570 Ultra's capabilities like DualNet; teaming, TCP/IP acceleration, etc.
A set of media card readers in the space occupied by just a pair of audio and USB jacks at the front of the PC would have been a better use of this spot, but these options are absent.
Lastly, wireless network connectivity would have been awesome, but it's not integrated in the model PCSTATS tested. While the absence of extensive IDE support may make some readers balk at the thought of adopting an entirely new set of SATA hard drives, in a compact PC like the Shuttle XPC SN27P2 it just makes sense. With SATA hard drives cable clutter is greatly reduced, not to mention installation simplified.
PCSTATS expects the Shuttle XPC SN27P2 small form factor barebones system to retail for around $400 CDN ($360 US, £196) when it hits stores later this month. There is nothing else on the market as of this writing which consumers can turn to if they want a socket AM2 small formfactor system with these kinds of expansion possibilities. If you're in the market for a top of the line socket AM2 SFF PC with plenty of storage support, there is no question that the Shuttle XPC SN27P2 is among the best!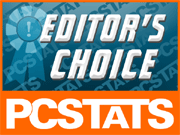 Find out about this and many other reviews by joining the Weekly PCstats.com Newsletter today! Catch all of PCSTATS latest reviews right here.
Related Articles
Here are a few other articles that you might enjoy as well...
- AOpen miniPC MP915-B Super Multi System Review
- Shuttle XPC SD11G5 Small Formfactor PC Review
- Canada Computers Content Creator X2 Workstation System Review
- Soltek EQ3501-300PW QBiC Mania SFF PC Review
- AOpen EX915 XCube SFF PC Review