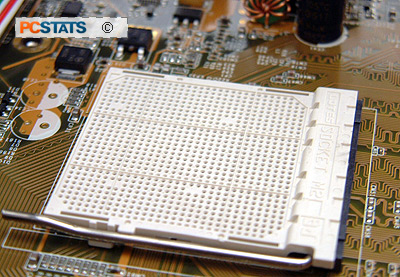 Since this is a barebones computer, you'll need to provide your own socket AM2 Athlon64 processor, a serial ATA hard drive or two, IDE optical drive, DDR-2 memory, and things like a floppy disk or media reader bay. Once you have all these items, assembly is really quite simple and not particularly time consuming for novices and computer junkies alike.
Shuttle include a large poster sized quick installation guide to help direct you through the many steps of computer building, but the layout of this SFF chassis is so intuitive that you really only need to read up on the heatsink and processor installation steps.
Installing the 940-pin socket AM2 processor, adding thermal compound, positioning the heatsink and then carefully tightening down the retaining screws is the only tricky bit. The case fan swings out, and it can also be pulled up from its hinges to give you a little more room when installing the CPU as well.

The motherboards' headers and important connectors are generally situated towards the outer edges of the board, so access to things a mundane as the fan header is unrestricted. The CMOS can be resent without even opening up the XPC SN27P2.
Optical and hard drives all mount into their own aluminum trays, and the necessary power and data cables are pre-routed to the general vicinity which is a nice touch. Cable routing is one of the hallmarks of the XPC SN27P2 small formfactor computer, and since the wires are already cut to length there's no way you can create a rats nest of messy wires. Nice.
All the cables included are custom and cut to the right length so you won't have to worry about stashing the excess out of the way. This is one area where Shuttle is far ahead of its competition.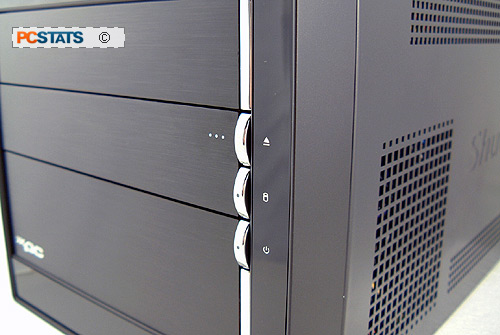 When fully installed, the Shuttle XPC SN27P2 Small Formfactor PC runs pretty quietly. Careful placement of fans creates cool airflow in a right-to-left direction, so you should be mindful of leaving at least 6" on either side of the computer unobstructed. There are two small cooling fans at the rear of the chassis, but the majority of the cooling work is tackled by the CPU heatsink and chassis fan which are located up front, set to blow hot air through small side vents.
Now that we've gone over the highlights of this first ever socket AM2 small formfactor barebone PC which is based on the nvidia nforce 570 Ultra chipset, let's take a much closer look at some of its best attributes!