To access the inside of the Shuttle XPC SN27P2, you'll first have to remove the outer shell. After that's done, you'll be greeted by the two aluminum hard drive cages. They are aluminum because the rest of the chassis is, not because this will greatly impact HDD temperatures.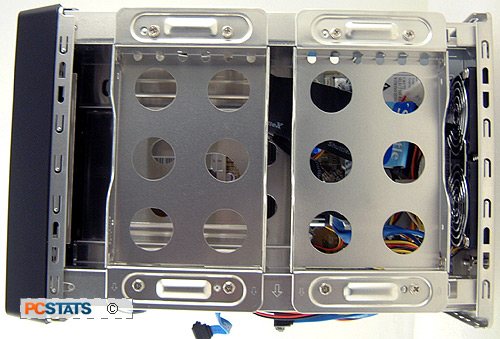 There is enough space at either side of the PC to access the memory slots, install a 5.25" device, or swap out a videocard or peripheral device. In a lot of small formfactor computers you practically have to dismantle the entire PC to access these components, so Shuttle gets a good pat of the back for designing this chassis so well.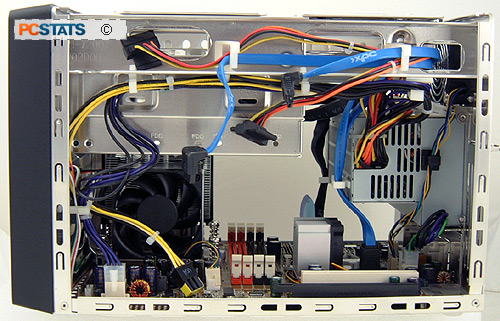 Continuing on, remove both the 3.5" HDD trays and the bottom cage which supports a 5.25" optical drive and 3.5" FDD will also slide out without much difficulty.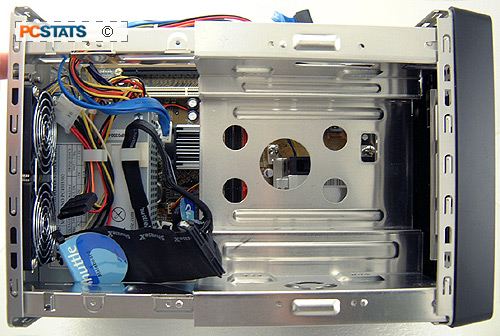 After these three trays have been removed, you have full access to the rest of the various components inside the system XPC SN27P2 from the top. Generally, you only need to do this once, when installing the processor.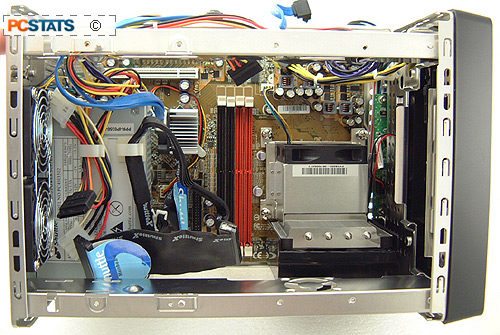 At the very front of the Shuttle XPC SN27P2 system is the CPU and heatsink; the system is based on the BTX motherboard design standard which calls for the processor to be situated at the front where air should be coolest.