When it comes to Small Form Factor (SFF) computers, no one does it like Shuttle. Shuttle's got to be quick on its feet to adopt a new platform, and it has to be more innovative than the competition; these svelte PCs are Shuttle's bread and butter after all. A lapse in any area could prove to be fatal, luckily the company has been on the ball since day one.
So what separates a good SFF PC from a bad one? First and foremost, its exterior appearance has to look sleek and sexy, and the consensus is in favour of Shuttle's recent design efforts. Every generation or two Shuttle designers tweak the chassis a bit to add new capabilities, improve user access, or change the way the cooling system works for example. Thankfully, the company has not been persuaded to attack its small formfactor PCs cheap plastic gimmicks, superfluous blue lights, chrome-on-chrome, or Batman-esque cartoon characters.
Shuttle's internal layout for its small formfactor computers is among the best in the business; the bits that you need to get to are not hidden behind walls of components, access is nevermore than a screw away, and cables are neatly tucked out of the way. After all, cramming a computer into something as small as a toaster can be a challenge, but Shuttle engineers have thus far utilized the space to its fullest. Compared to a couple other SFF PC's which have passed through the PCSTATS test labs, the Shuttle SFF PC's often seem much more roomy even when fully installed.
Shuttle's latest Small Formfactor PC is its XPC SN27P2 which is based around nVIDIA's nForce 570 Ultra chipset and supports 940-pin socket AM2 Athlon64 X2/FX and Sempron processors. There are a whopping four 240 pin DDR-2 DIMM slots, making this toaster capable of supporting up to 8GB of memory (up to DDR2-800 RAM like this Twin2X-PC26400 modules from Corsair). If that wasn't enough already, the BTX-style motherboard layout means you can install a PCI Express x16 videocard with a dual-slot heatsink! It's unheard of! If you choose to do load up this socket AM2 powerhouse with an nVidia Geforce 7900GTX, the dual-slot thermal package will block off the lone 32-PCI slot which is the computers only other expansion possibility.
Other standard features integrated into the nVidia nForce 570 Ultra chipset include Gigabit Ethernet LAN, IEEE 1394a Firewire, high definition 'Azailia' 7.1 channel audio, three 3GB/s SATA2 ports (one IDE channel) that offer up RAID 0/1/0+1/5, an external Serial ATA II jack and the full gamut of nVidia nTune, FirstPacket and MediaShield technologies. The nForce 570 Ultra chipset does note support onboard graphics.

Shuttle XPC SN27P2 Small Form Factor PC





Includes:

Quick Installation Guide, RAID User's Manual, 32/64 bit Driver CDs, Software CD, HDD Driver Diskettes, Ultra/133 IDE Cable, Three Serial ATA Cables, Floppy Cable, Molex to Floppy/Molex Power Connector, Thermal Paste, Power Cord
Inside the Shuttle XPC SN27P2 there is room enough for two 3.5" hard drives, a 3.5" FDD and 5.25 optical drive. The computer comes with a 350W power supply with Active Power Factor Correction, two rear mounted 60mm cooling fans, and an additional side mounted 92mm fan by the processor heatsink.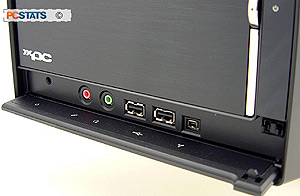 A proprietory heatpipe heatsink with PWM fan is included with the barebones kit, and the CPU mounting holes are such that only the manufacturer supplied thermal solution can be used.
Up front there is a single 5.25" and 3.5" bay hidden behind flush panels, and just a little lower a collection of audio (mic in, line out), USB2.0 and mini-Firewire jacks which can also be hidden from view when not in use.
From Barebones to Operation
The sleek black Shuttle XPC SN27P2 Small Formfactor PC is 220 x 335 x 205mm in size and weighs about 4.2kg. The chassis, cover and front panels are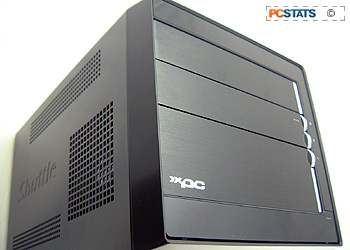 all made of aluminum, while the front bezel is mostly plastic. The three control buttons on the front of the computer are optical drive eject, power and some indicator LEDs, the rest of the exterior is refreshing uncluttered.
Inside the system is a 350W A-PFC power supply, which might sound a little restricting from the get-go, but it has plenty of power to go around. PCSTATS tested the Shuttle XPC SN27P2 with an Athlon64 X2 5000+ processor, a 150GB WD Raptor and an nVidia GeForce 7800GTX videocard and did not encounter any power related issues.
The power supply supports A-PFC which means there is no need for a 115/230V input voltage selector switch, and less energy will be wasted. There are just enough power connectors to accommodate the amount of drives and devices that are installable. As a result, cable clutter is done away with.
To keep vibrations and noise down to a minimum when the Shuttle XPC SN27P2 is running along, the chassis is equipped with four soft rubber feet on the bottom. When optical drives spin up there are occasionally vibrations transmitted to the rest of the computer, and potentially to the desk or table top below. This can cause noise, if not become rather distracting over item. The rubberized feet of the XPC SN27P2 do a great job of reducing vibration transmission from this SFF computer its surroundings. The entire PC stands evenly on soft rubber feet, or a pair of 1/2" tall decorative aluminum feet can be added to give it a little extra cooling space below.
Overall the Shuttle XPC SN27P2 Small Formfactor barebones PC is a nice package - it looks great and is built with reducing an impact both in the space it occupies, and in the amount of noise it generates.
---
UPDATE (10/10/2012) - END OF LIFE REPORT
This Shuttle SN27P2 SFF PC died after almost every 6.3v 1800uf 'KZJ' brand capacitor began to fail, finally bursting and leaking electrolyte.