Things are definitely busy at the rear of the Shuttle XPC SN27P2 case. Starting from the left, we find the PCI Express x16 and PCI expansion slots, and the little button there is a Clear CMOS button (handy if you tend to do a lot of overclocking).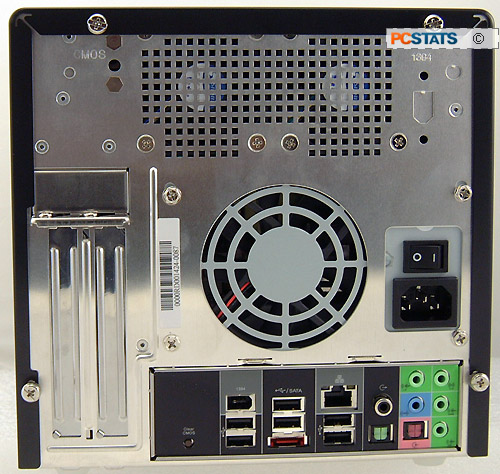 There are a total of six USB 2.0 slots along with an IEEE 1394a Firewire and a eSATA jack. You'll also find a Gigabit Ethernet network jack, and various audio jacks from SPDIF to digital output along with the traditional audio ports. At the top of the chassis are spaced for a few extra items, non of which come standard with this particular model.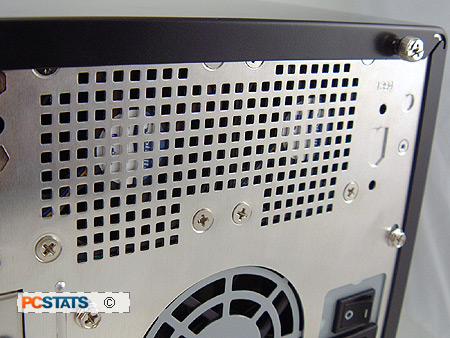 Above the power supply the are two 70mm exhaust fans set to blow through some rather poorly thought-out cooling vents in the aluminum chassis.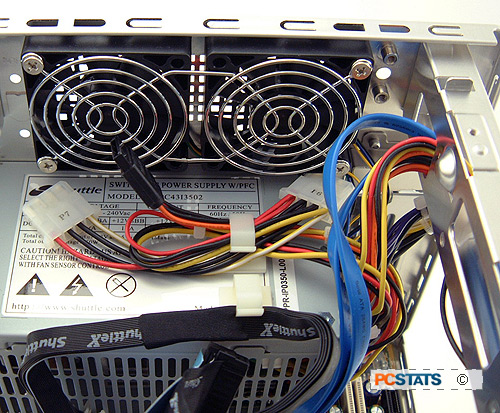 The fans are mounted right up against the aluminum sheet metal without any space for a plenum, and the vent holes are about as small as you can possibly get. It's really tempting to just cut this section of the chassis right out, and replace it with a couple wire grills... if there is anything to criticize about the Shuttle XPC SN27P2 it's this spot. On the inside, we at least find the cooling fans are properly shielded from stray wires which might gum them up.