32. Upgrade to Windows Vista Service Pack 1 Beta (SP1-beta)
Service Pack 1 for Windows Vista is currently available as a pre-release version, and promises to provide a whole host of speed tweaks and fixes for some of the nagging issues that drag down Vista performance, especially on lower end computer systems.
While installing pre-release software is risky, the speed benefits that Microsoft outlines are probably worth it. Have a look at this PDF document on Microsoft.com and see what I mean. Historically, Windows Service Pack updates have provided major benefits (and occasional major headaches) for users, and this one should not be any different. Make sure you install it when it is officially released, if not before.
33. Disable superfetch for computers with less memory
The Vista Superfetch feature is an interesting one. In theory, your Vista PC will 'learn' your typical activities in terms of file and application access, then preconfigure the most commonly used apps in its memory on startup, making them much faster to access. In practice, this works very well on computers with 2GB or more of memory, but leads to a lot of disk thrashing and sluggishness on systems below the magic 2GB line. If you are not happy with the startup speed of your Vista machine, why not try disabling the Superfetch feature?
To stop and disable Vista Superfetch:
Go to the 'start' menu and type 'services' in the search bar. Hit Enter.
In the services window, scroll down until you reach the 'superfetch' service. Right click and choose 'properties.'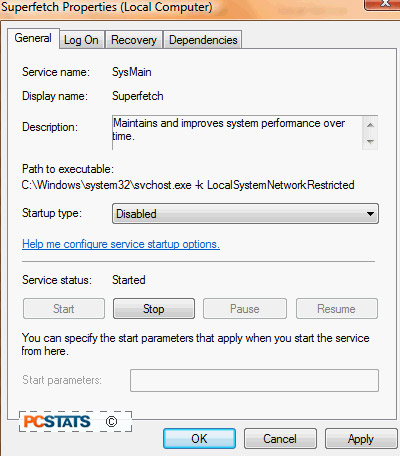 Change the 'startup type' dropdown box to 'disabled' and click the 'stop' button to stop the service.
Hit 'OK'.
34. Boot Vista with all available processors
While it takes good advantage of today's multiple core processors when it's loaded, Vista will still use only a single processor core when the OS itself is loading. Fortunately you can override this and force Vista to take advantage of all available processors when starting up.
To force Vista to use all processors during the startup process:
Right click on the 'start' menu and type 'msconfig.' Hit Enter.
Go to the 'boot' tab and click 'advanced options.'
Place a check next to the 'number of processors:' option and change the dropdown box to reflect the number of discrete processor cores in your computer.
Hit 'ok' to save. You will need to restart to take advantage of this tip, obviously.