Vista Performance Boosting Tips
---
Now it's time to get to the meat of this article. The following tips deal with speeding up your Windows Vista experience by altering many of the default settings of the operating system. Happy tweaking!
21. Disable search indexing
The indexing service in Windows Vista is a lot better integrated into the operating system than it was with Windows XP, and a lot more useful, given the presence of the searchbar. It's still not essential though, and it still uses up hard disk and memory resources. Disabling the indexing service does not disable the search or search bar functions of Vista, but it will slow down the results a bit. Disabling it will speed the rest of your computer system up a bit, so the trade off is up to you.
To disable the Windows Vista Indexing service:
Open the 'start' menu and type 'services' in the searchbar. Hit Enter.
In the services window, scroll down until you reach the 'windows search' service. Right click it and hit 'properties'.
In the 'startup type' dropdown box, change the value to 'disabled', then click the 'stop' button below to stop the service immediately. Hit 'ok.'
22. Limit start menu search options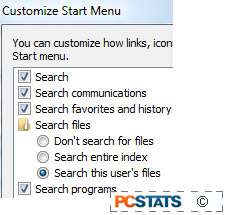 Once you've gotten used to it, The start menu search bar is an incredibly easy way to find and launch programs, files and other stuff. It can run into speed problems though, once the volume of data in your Windows Vista computer system increases. It can also give you a lot of extraneous results that you may not want, or want others to see. Let's look at some ways to customize the search bar to streamline and speed up searches.
To change start menu search bar options:
Right click on the 'start' button and select 'properties.'
Now click the 'customize' button.
Scroll down until you reach the 'search' entry.
The next five options control what the search bar will actually search for.
'Search' you are going to want to leave enabled unless you really dislike the search bar. You can
'Search communications' searches Windows Mail for contacts and emails. If you don't use Windows mail or don't plan to initiate emails from the start menu, you can disable this one.
'Search favourites and history' checks through Internet Explorer 7 for faves and recent web site visits. If you use Firefox or value your privacy, you might want to disable this one, though it does make navigating to a favourite page quick and easy.
'Search files' has three settings. By default it will search all files in your user directory, but not elsewhere on the computer. You can also set it to search all indexed files on your computer, or, for maximum search speed, disable file searching entirely.
'Search programs' enables and disables program searching, obviously. We'd recommend you leave this one alone, because it might make Microsoft developers cry if you disable it (also it's useful).
23. Remove remote differential compression
The remote differential compression feature of Vista was designed to streamline transfers of files to and from remote directories by keeping track of file changes and only transferring the changed parts of a file or document, rather than the whole thing. This is a great feature for offices that commonly store and access work on network drives, but not so much for home users, especially since the service can eat up system performance while it's working.
To disable remote differential compression:
Go to 'start/control panel/programs/uninstall a program'.
In the sidebar, click 'turn windows features on and off'.
Uncheck 'remote differential compression' and click 'ok.'