39. Sidebar to low priority
So you like the Vista sidebar (and why not?) but you are worried about it consuming unnecessary resources while you are doing things with your computer that do not involve it? We have a solution for you.
What we are going to do is show you how to permanently set the sidebar to be a 'low priority' application for Vista, meaning that the operating system will not devote resources to sidebar apps when other full screen applications are demanding them.
To set the Windows Vista sidebar to low priority permanently:
First follow the steps in Tip #38 above to prevent the sidebar from starting when Vista starts.
Go to 'start/computer' and press 'ALT' to bring up the file menu taskbar.
Go to 'tools\folder options' and select the 'view' tab.
Under the 'hidden files and folders' section, select the 'show hidden files and folders' option. Click 'ok'.
Navigate to 'start\computer\c:\users\(your username)\appdata\roaming\microsoft\windows\start menu\programs\startup\'
Right click on the empty directory and choose 'new\shortcut.'
When the shortcut wizard appears, copy and paste the following:
C:\WINDOWS\system32\cmd.exe /c start "sidebar.exe" /LOW "C:\Program Files\windows sidebar\sidebar.exe"
And click 'ok' to save the shortcut. Now every time you start Windows Vista, the sidebar will be started also, but at low priority only.
40. Kill the RSS feed sidebar gadget
Even if you don't tweak the sidebar in any other way, you should take our advice and remove the default RSS feed gadget Microsoft included on the bar. The trouble is that this particular gadget has a nasty habit of running very intensively every few minutes, regardless of what else you are doing on the system. This can cause brief performance stutters in games and other applications.
To remove the RSS feed gadget:
Highlight the feed gadget by mousing over it, then click the small 'x' that appears to the top right of the icon.
41. Disable automatic backup/system restore
Microsoft's system restore feature has always been of dubious use. As most technicians will tell you, once your Windows system is corrupted enough to require system restore, it's usually too far gone to be worth saving. Boot from safe mode or a live CD, get your data off and reinstall. Since system restore for Vista doesn't contain any major updates over its Windows XP predecessor, we'd recommend disabling to save on disk space and false hopes.
Note that in no way are we not recommending BACKUPS, as you should always have your crucial personal and work data backed up onto a separate physical storage device. It's just that history has proven that there is very little point in backing up your OS's system files. By default, system restore can expand to use up to 15% of each of your drives, so there's a good reason to turn it off.
To disable system restore:
Open the 'start' menu and type 'backup'. Hit Enter.
In the left hand pane, click 'create a restore point or change settings.'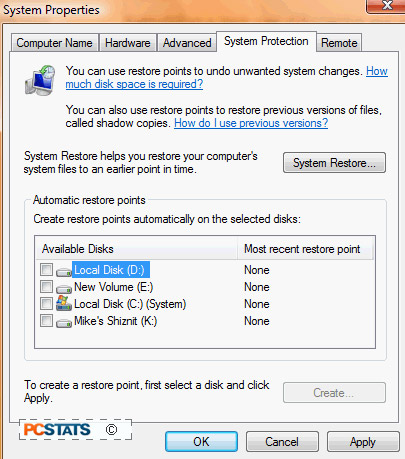 Under the 'available disks' heading, uncheck all entries. Confirm and hit 'ok'.