51. Disable unneeded hardware
Do you use firewire? How about your wired Ethernet connection? If the answer to these questions is no, you might want to consider disabling the unnecessary hardware to free up system resources. This is a simple process and can be reversed with a few clicks of the mouse, so you don't need to worry about the consequences later on.
To disable unnecessary hardware in Windows Vista:
Open the 'start' menu and right-click on 'computer'. Select 'properties'.
Click 'device manager' in the left-hand pane.
When device manager opens, mouse down to the hardware you want to disable. Firewire would be under 'ieee1394', while all network connection hardware is stored in the 'network adapters' section.
To disable a device, right click on it and choose 'disable'. If you think you've made a mistake, return to device manager, right click on the device and choose 'enable' to return it to its previous state.
52. Check bootup and shutdown times with the Windows Vista Event viewer
The Windows Vista Event Viewer is not a tool most Vista users will find themselves checking often, but it has a few handy uses. One thing you can do with the event viewer is check your bootup and shutdown times and compare them to your system's previous times. If starting your computer has recently become painfully slow, this is the way to track when the rot started.
To check Vista's boot and shutdown times:
Open the 'start' menu and type 'event' in the search bar. Hit Enter.
Navigate to the following path: 'application and service log\microsoft\diagnostics-performance\' and double click the 'operational' log.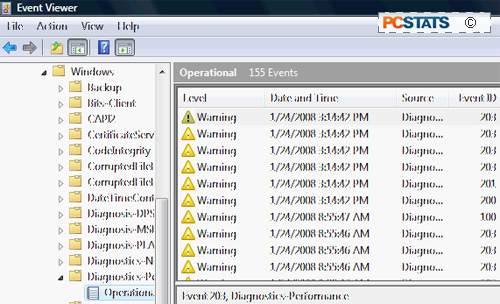 The interface is a little less-than-obvious at first, but here's the key; log entries numbered from 100-199 deal with startups and startup events. 200-299 are shutdown related, and 400-499 are system performance entries.
Click on a '100' item, go to the 'details' tab and select 'friendly view' .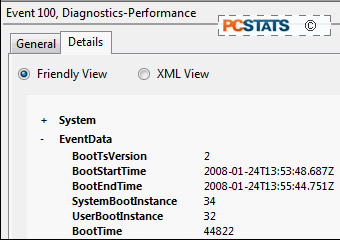 Here you are shown the time (measured in ms) to complete the boot process, as well as the various steps along the way. You can compare this to previous '100' items on the log to check whether your boot time has sped up or slowed down with the changes you have made to your system. The same can be done for '200' shutdown events.
53. Check your computer system's health in 60 seconds or less
Another feature Microsoft added to Vista as part of the performance and reliability monitor upgrade is the system health report generator. This will analyze your system using the various hardware and software monitoring tools available to the OS and give you a one page breakdown of your systems current health, with links to more additional information than you could ever want. The system health report will give you a quick idea on what, if anything is causing problems with your system's performance.

To run the System Health Report Generator:
Oen the 'start' menu and type 'perform info' in the search bar and hit Enter.
Now click 'advanced tools' in the left-hand pane.
At the bottom of this window, click 'generate a system health report' to run the report generator.
You now have a snapshot of what Vista thinks of your computer and its own configuration. Read and enjoy!