24. Boost external hard drive performance
If you use an external hard drive enclosure as secondary storage for your vista computer system, or if you regularly use a USB storage device for large amounts of file transfers, you will benefit from this tip. By changing the way Vista handles writing data to USB storage devices, we can considerably boost the access speed and data transfer rate of said device.
By default, Windows Vista does not use write caching on USB drives, meaning that all data you send to the drive is instantly transferred to the device. Write caching acts as a buffer between the slow mechanical hard drive and the fast system memory. In essence, your computer writes to the cache (another area of memory) which then transfers the data sequentially to the drive, freeing up the rest of your system to do other things.
By enabling write caching on USB drives, you can increase the apparent performance of your external hard disk greatly. Note that flash memory devices will see little to no performance increase with this tweak.
To enable Write Caching on an external drive:
With your external USB drive plugged in and connected, go to 'start\computer.'
Right click the external drive in the computer window and choose 'properties.'
Click on the 'hardware' tab.
Highlight your external drive in the list and click the 'properties' button.
Select the 'policies' tab.
Choose the second option marked 'optimize for performance.' Click ok.
Important:Note that in order to prevent data loss, you will now have to use the 'safely remove hardware' icon in the taskbar whenever you want to remove your external drive. This is not necessary when shutting down the computer system though.
25. Enable Readyboost on any flash memory device
If you've been paying attention, you'd have noticed that we have not included Readyboost as one of our performance tips. This is because PCSTATS tested this Vista feature extensively in a previous article and came to the conclusion that the performance gain it offers is minimal at best, unless you have very little memory available (512MB or less). Since DDR2 memory is so cheap, it invariably seems a better expense than buying and using the more expensive ReadyBoost certified flash devices.
However, if you already have a flash memory device or two around the house and want to play at ReadyBoost, but Vista is telling you your toys aren't fast enough to join, this tip could be for you.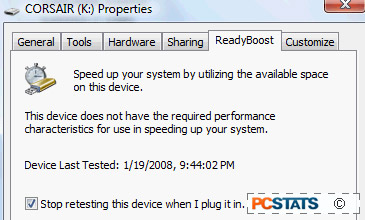 To enable ReadyBoost on a 'slow' USB drive or flash memory card:
Insert the device and ignore the autoplay Window.
Open 'start\computer'. Right click on the flash memory device and choose 'properties.'
Go to the 'readyboost' tab and place a check next to 'do not retest this device'. Hit 'ok'.
Unplug your USB device.
Open Regedit (open 'start' menu and type 'regedit.')
Navigate to 'HKEY_LOCAL_MACHINE\SOFTWARE\Microsoft\WindowsNT\CurrentVersion\EMDMgmt'
In this folder, there should be a folder corresponding to each USB storage device you have ever had attached to your computer. Find the one corresponding to your USB drive and open it.
Double-click on the 'DeviceStatus' value and change it to '2'.
Now replug your USB device. It will now be recognized as ReadyBoost capable.
26. Speed up SATA hard drives in Vista
In a similar mode to Tip # 24, Vista can also be tweaked to improve the performance of internal SATA (Serial ATA) hard drives. Vista's write cache has two levels, the more basic of which is enabled by default. To really enhance the performance of your SATA hard disks you can enable the 'advanced disk performance' mode.
It should be noted that this tip, like a couple of others in the guide, has the potential to damage your Vista installation. By extending write caching (data held in memory to be written eventually to hard drive) you extend the risk of damaging your system files in the event of a crash or power outage. That being said, you will experience an increase in drive performance, so balance the pros with the cons.
To enable advanced performance on a SATA internal drive:
Go to 'start\computer.'
Right click the SATA drive in the computer window and choose 'properties.'
Click on the 'hardware' tab.
Highlight your SATA drive in the list and click the 'properties' button.
Select the 'policies' tab.
Select the 'enable enhanced performance' option. Note the warning. Click OK.