58. Remove unnecessary Windows Vista features
Like most Microsoft operating systems, Vista uses the 'kitchen sink' approach, bundling more software and applications than you are ever likely to use. Let's look at streamlining your Vista PC a bit and saving some drive space by removing some of these unnecessary applications.
To remove unwanted Vista components:
Go to 'start/control panel/programs/uninstall a program'.
In the sidebar, click 'turn windows features on and off'.
The checkboxes list optional features that can be added or disabled. Good options for removal include games, DFS file replication service, windows meeting space and tablet tools.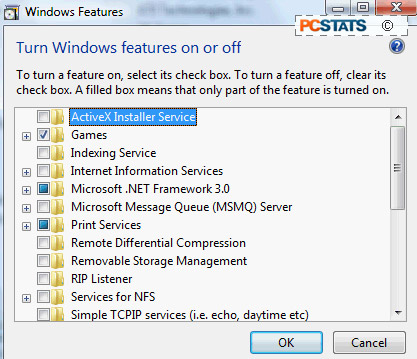 59. Start task manager directly
Windows Vista alters the traditional CTRL+ALT+DEL keyboard shortcut. Instead of opening the task manager straight off, the three finger salute takes you to a more general option menu. If you'd still like to visit the task manager directly, just hit CTRL+SHIFT+ESC instead.
60. Run sidebar gadgets without the sidebar
This tip falls under the category of "why did I not notice this before?". You do not need the physical space of the sidebar to run Microsoft sidebar gadgets. Click your favourite gadget and drag it out of the sidebar onto the desktop and voila! Now you can close the bar, reserve your real-estate and still keep the use of your favourite gadget(s).
It's important to note that when you carry out this tip and close the sidebar, it remains resident in memory and is required to keep the gadget running. Unfortunately this means you can't disable the sidebar completely as in Tip #38 and still keep your fave gadget on the desktop.
61. Backup your entire computer with Vista Backup and restore (Vista Business and Ultimate only)
If you have a removable USB or eSATA hard drive enclosure, consider this tip once you have your Vista install set up just the way you like it. Vista Business and Ultimate editions allow you to create a backup image of your entire computer, data, applications and all. It does take up a lot of space as you might imagine, so you will pretty much need to dedicate an entire hard drive to it, but it's worth it for the peace of mind it offers.
PCSTATS recommends separating your data and system partitions, making an image of your system partitions and then regularly backing up your data partitions to a source that is not inside your computer.
To make a backup image of your entire system:
Open the 'start' menu and type 'backup' in the search bar. Hit Enter.
Click 'backup computer'.
You can backup either to a separate hard disk partition or to DVD media. You'll end up using at least 5-10 DVDs for a standard Vista install, so that's not really an option.
Once you've indicated which partition you would like to backup to, just hit 'ok' and follow the prompts to create your backup image.