27. Bypass the recycle bin when deleting a file
If you do not wish a file or folder you are deleting (or a group of files or folders) to end up in the recycle bin, for security or privacy reasons, there is a simple keyboard shortcut to avoid it.
To bypass the recycle bin when deleting a file, press and hold the SHIFT key as you press delete or select the delete command from the menu. You will see a request for confirmation, and once you say 'yes' the files will be permanently deleted, and absolutely non-restorable from WindowsXP.
28. Create a link to shutdown your PC
To create a useful link desktop link to shutdown or restart your PC, follow these directions:
Right click on an empty area of your desktop, then select 'new' and 'shortcut' to open the new shortcut wizard.
When prompted for the location of the shortcut, enter 'SHUTDOWN -s -t 01' to shutdown the system or 'SHUTDOWN -r -t 01' to restart the system.
Name the shortcut and give it an appropriate icon from the '%SystemRoot%\system32\SHELL32.dll' location.
You now have a quick shortcut to shutdown or restart your system! Perfect for getting out of the office right at 5:00PM on the dot!
29. Hosting online games through the Windows XP firewall
If you are using the Windows XP firewall and you wish to host an online game such as Quake 3, or other applications that require users on the Internet to contact your computer directly, you will need to customize your firewall slightly to allow these specific communications through. Fortunately the XP firewall makes these changes fairly easy to do.
To customize your firewall: Go to 'start\control panel\network connections'. Right click on the network connection that has the firewall enabled and go to 'properties.' Choose the 'settings' button at the bottom. On the 'services' tab, click the 'add' button.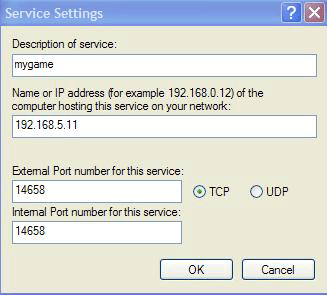 This window will add the application that you are using to the firewall's list of data that is allowed into your computer.
You will need to find out the port that your application uses. This information should be available from the documentation or from the software manufacturer's website.
Input a description for your convenience, then the computer name or IP address of the computer that is hosting the program, then put the port number that the program uses. Note that as long as the program is running on the computer that uses the XP firewall, the internal and external port will be the same.
Click 'ok' to apply the rule. Your firewall will now allow connections through the port you specified.
30. Rename multiple files simultaneously
In windows XP explorer, you can rename multiple files at the same time simply by highlighting all the files you wish to change, right clicking one of them and selecting 'rename.' Once you have done this, all the files will share the same name with a number in brackets differentiating them.